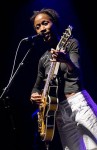 Four years ago a sinewy petite woman commanded the Cedar Cultural Center's stage with her sultry voice and wiry moves.  This year, with a new album freshly released, Rokia Traoré again steps on stage.
The first Friday in February warms up as Traoré opens her mouth to sing. The last time I saw her, her head was shaved; she looked different. Even the house manager, Michael, said he didn't recognize her now. But as I saw her this evening, she is still like a flexible fiber optic, lithe, bendable, with fingers that stretch out like spider legs as they slide over the frets of a guitar.
Traoré's dress is an orange tie-dye that fits like the sleeve of a long pair of gloves. We can see the silhouette of her bellybutton ring. And she has hair, modestly coifed, but feminine nonetheless.
Despite her new appearance, her musicianship is unmistakable. She sings more and plays the guitar less than in her past show, but still delivers strength and skill. Several cuts from her new album, Tchamantché, are well received, but when she launches into Zen, the sold-out crowd of over 400 responds with a standing ovation right in the middle of the show.
Sung in Parisian French, Zen includes a karimba or thumb harp and an unusual shaker that looks like a cluster of silver-gold grapes. Traoré's limbs seem longer as she dances along to the instrumental riffs and her smile broader as she sings in harmony with her able back-up singer.
Her second-voice on stage sounds so much like a harmonic echo to Traoré's own voice, it's mesmerizing. The percussionist with his many African rhythm instruments adds the exact touch of clicks and shakes as if it's intrinsic to his nature.
Now that Traoré had deepened her rapport with the audience, she ventures into some of her newer musical styles. Billie Holiday and jazz music holds a special place in the hearts of many Africans, Traoré tells us. Then she lovingly delivers her next song, The Man I Love, sung with the same jazzy voice of torch singers such as American diva, Ella Fitzgerald.
This is Traoré's first tour without her young son, born in the years since her last Minneapolis visit. Traoré told Mshale that her son would be staying with his grandmother. "Children need to form firm relationships with their other relatives; I won't have anything to worry me," she said confidently.
Her confidence spills out on the stage as she sings and dances with abandon. Her band joins her in movement and exuberance, jumping about like popcorn in hot oil.
"Thank you," says Traoré, "without an audience we wouldn't be here performing on stage. And we love performing on stage," she adds coyly.
Susan is based in Minneapolis and reports on general assignments for Mshale with a focus on entertainment. In addition to reporting, she is also a writer, poet, teacher and coach.





(No Ratings Yet)


Loading...