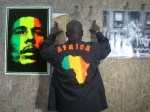 Last month, Senegalese hip-hop superstars Gokh-Bi System made their first appearance in the Twin Cities, rocking the Cedar Cultural Center with their fusion of traditional West African storytelling and music with the most globally-popular music of today, hip-hop.
The group's tour is promoting their first full-length album, Voice of the Jeli. A jeli, also known as a griot, is a long-revered figure in West African traditions of poetry and storytelling, an oral repository for history, knowledge, celebration, and political criticism. The modern griots in Gokh-Bi System (which means "neighborhood system") use the medium of hip-hop as a way to spread their musical message of peace, love, and justice.
"It's very important for us to mix the traditional with the urban music," Mamadou Ndiaye, the group's lead MC, told Mshale in an interview at the Cedar's Green Room a few hours before the show. He believes that through such a combination, they can "catch the old generation with the traditional music and catch the youth with the urban music."
This emphasis on connection is not only to bridge the generational gaps that so often develop around hip-hop. Gokh-Bi System and many other hip-hop artists from Senegal—which possesses one of the largest hip-hop scenes not only in Africa, but also in the world—see contemporary hip-hop is descendant from tasso a rhythmic oral history in Senegal.
"This is our roots, this is where we come from," Mamadou said.
Mixing lyrics in Wolof (a Senegalese language), French, Arabic and English, Mamadou's words echoed off the Cedar's walls with the voices of generations of poets before him. Yet much of the group's "traditional" sound could be heard in Sana Ndiaye's akonting performance. Ndiaye made this three-stringed lute sound like a 12-string guitar throughout the night, with quick runs and can't-help-but-move syncopations that danced with the polyrhythm created by the incredibly-tight rhythm section.
The audience certainly got their money's worth, with the group playing over an hour and a half. After some encouragement from Mamadou and other members of the band, the crowd was coaxed from their chairs and were soon in front of the stage, dancing with as much energy as the members of Gokh-Bi themselves. A few adventurous Minnesotans even got up on stage and danced with the band.
While Gokh-Bi System are one of the best-known hip-hop groups to emerge from Senegal, including the groups that originally inspired them to make music like Daara J and Positive Black Soul, the group realizes they have a much bigger potential for change far beyond the borders of Senegal.
We don't represent just Senegalese hip-hop," Mamadou said, recognizing the group's place as "African hip-hop ambassadors." For the members of Gokh-Bi System, the group represents "the image of Africa (and African hip-hop) any place we go."
The group has been part of the Senegal-America Project, as well as wider projects such as the National Education Association's "I Love My African Child Campaign" and a CNN documentary about African hip-hop.
With covers of "Get Up, Stand Up," shouts of "One Love," as well as their own politically forceful lyrics on songs like "Mama Afrika" and "Solidarity," it is clear that the members of Gokh-Bi System recognize the political power that hip-hop yields.
"I think hip-hop is one way to unite us," Mamadou said of Africa.
The group also sees itself as a voice beyond the African continent, "We always want to stand for those without a voice."
Justin Schell is a Twin Cities based writer and a grad student at the University of Minnesota's Comparative Studies in Discourse and Society program. He's working on a dissertation on Twin Cities immigrant and diasporic hip-hop and plays the washboard tie with The Gated Community.





(No Ratings Yet)


Loading...