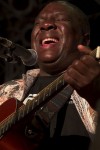 On stage at the Ordway South African vocalist and self-taught guitarist, Vusi Mahlasela, was flanked by two bass guitarists who doubled up as back up singers and a drummer. The instruments they used were not the traditional African kind, but at the hands of their masters they elicited the kind of sound that transported the audience to a far away land of beautiful scenes and varying emotions. Even the colors of the background screen of the stage seemed to obey the passion in Mahlasela's voice. They were as warm as an African sunrise  when he sang 'When You Come Back' , red hot when he sang 'Thula Mama', a tribute to his grandmother, and cool blue when he recalled his mom's passing with song 'River Jordan', which he wrote in her honor.
It is difficult to box into a genre Mahlasela's music; his music infuses African Folk, African Jazz and World Blues. Nonetheless, whether sang in English, Xhosa or Zulu Mahlasela reached into the souls of the patrons at the Ordway that evening as they took it all in; some bobbing their heads, others tapping their fingers while others swayed in their seats. There were those who refused to be held captive by the seating arrangement of the theater and rose to their feet to dance.
The audience was not only enjoying the music, but also applauding his words of advice during the interludes. "You cannot live without forgiveness," Mahlasela told the cheering crowd. It was hard to tell who was enjoying the music more, Mahlasela or the crowd.
Even with his guitar, Mahlasela found a creative way to bust a move eliciting screams and whistles from the audience. "How could anyone not enjoy this concert when he (Mahlasela) is having so much fun himself?" said self-proclaimed African music-lover Linda Grant, who later excused herself to dance in the aisle and sing long to his rendition of Miriam Makeba's "Pata Pata".
Vusi Sidney Mahlasela Ka Zwane is on a world tour promoting his sixth album, Guiding Star, which was mostly recorded on a farm in rural South Africa, and features international guest appearances from personal friend Dave Matthews, Allman Brothers lead singer and guitarist Dereck Trucks, Australian didgeridoo star Xavier Rudd and Grammy award winners, Ladysmith Black Mambazo among others.





(No Ratings Yet)


Loading...