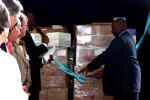 ATLANTA – Books for Africa, the world's largest shipper of donated books to the African Continent has opened a 20,000 square-foot warehouse in Atlanta.  The new facility, located just outside city of Atlanta in Smyrna, will serve as the organization's primary shipping, receiving and sorting center.
Speaking during the grand opening ceremony James Kiiru, the Commercial attaché to the Kenyan Embassy in Washington DC praised the organization for its work when he delivered a message from Kenya's Ambassador to the US, Peter Ogego who was to serve as the chief guest but had to be with the Kenyan prime minister who was making an official visit to the country. Mr. Kiiru said the Embassy greatly appreciates the organization's work as it complements the efforts being made by most African countries which are striving to offer formal education to their children.
Mr. Kiiru said "Africa will forever be grateful to Books for Africa as its efforts continue to positively impact education development on the continent". He added the continent is faced with a lot of challenges, most of which directly affect the children. "It is good to know that someone cares. The Kenyan Embassy will do everything in its powers support you as it believes in your dream," he said amid applause. He then performed the ribbon cutting to officially open the new warehouse and sent off the first container of books from the new warehouse destined for the city of Eldoret in Kenya.
Speaking earlier, Books for Africa's board of directors President-elect, Tom Gitaa, said that the organization greatly appreciates the cooperation and support given by African embassies in Washington. "We recognize the fact that we cannot do much without their invaluable support", he said. Gitaa, who is also the president and publisher of Mshale, thanked all donors and sponsors for making it possible to ship the books to Africa. He said the organization was truly grateful to talk-show host Oprah Winfrey and Organization of the Petroleum Exporting Countries (OPEC), for their recent donation of $95,000 and $100,000 respectively. He told those present that the Atlanta hub will be a busy one. "We are hitting the ground running. We intend to be shipping at least a hundred containers annually", said Gitaa.
Books for Africa founder, Tom Warth, told a riveted audience the story of how the organization came to be. Upon selling his business in 1988, he went on a tour of Africa. While in Jinja, Uganda, he came upon a library with empty shelves. "When I looked at those children's faces, I knew that they yearned for knowledge but they had no way of getting it", said Warth. The urge to touch their lives and others like them led him to create a system for collecting discarded books from American schools, colleges, Libraries, and publishers. What began as a one man's concern 21 years ago has grown to unimaginable proportions. "But we are not there yet. The 21 million books we have sent to 45 countries are not enough. We need more books, money, and volunteers", he said.
"We are very excited today," said Patrick Plonski, Books For Africa's executive director. "The people here are very kind. They have come to see what we are doing and they are very impressed. Many of them have promised to help as volunteers in our new office and warehouse". Plonski added that he is very hopeful that the expansion will be a success story. "The greater Atlanta area offers us exceptional opportunities to interact with diverse corporations and businesses, schools, universities, community leaders and organizations," he said.
Delta Airlines, which is commencing direct flights to Kenya on June 2 also offered to deliver the first air shipment of books from the organization to Kenya free of charge through a partnership initiated by Books for Africa partner, Atlanta based Our Reading Spaces. The first air shipment of books will be aboard the inaugural flight to Nairobi and among its passengers will be Kenya's ambassador to the United States, Peter Ogego.
Delta Airlines, through a company representative at the grand opening promised to continue partnering with development-oriented agencies to offer relief to the needy. "It is a symbolic gesture that aboard our inaugural flight to Nairobi on June 2nd will be aid to Africa in form of books", said Frank Wrenn, the External Affairs and Community Relations Manager.
But it was perhaps the founder and Executive Director of Our Reading Spaces, Irene Mbari-Kirika, who summed it up for everyone when she said: "Education is a fundamental human right. We all have an obligation to make sure that all children, regardless of where they are, get it".
With a mission to end the book famine in Africa, Books for Africa collects, sorts, ships and distributes high-quality books to needy children in Africa. Books donated by publishers, schools, libraries, individuals and organizations are sorted and packed by volunteers who carefully choose the ones which are age and subject appropriate. Each 40-foot container, which holds approximately 22,000 books, benefits approximately 250,000 students over the life of the books. Each container costs approximately $9,500 to ship, which is less than 50 cents per book.
Books for Africa will continue to keep its organization's headquarters and operate a warehouse facility in St. Paul, Minn.
Present during the ceremony were Elisa Voelkel of H.J. Russell & Company, David Murphy of Better World Books, and Beth McClurg of Cushman & Wakefield. Others included Kenyan businessman Peter Mwaniki and Kenyan businesswoman Elizabeth Mungai, who donated hundreds of books.
BMJ Muriithi is Mshale's correspondent in the Atlanta area.





(1 votes, average: 5.00 out of 5)


Loading...