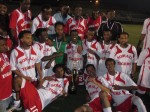 Organizers of this year's Somali Independence Day soccer tournament barred a section of Twin Cities mainstream media from reporting on the scene accusing them of a continuous "negative publicity and profiling of the community in a bad light". The tournament's spokesperson Abdirizack Ismail Said Maashal, told Mshale of his doubts regarding mainstream media's sincerity in their renewed interest in the community after ignoring pleas from organizers in the last six years to cover the tournament.
"Its 6 years now since the inception of the tournament and no media house honored our invitations to come and cover this important annual event", said Maashal. He vowed not to allow anyone with "malicious intentions to come and wreck the spirit of the eventful competitions" aimed at motivating Somali youth and youngsters to engage in sports and other gainful activities to better their lives and shape their moral upbringing. He questioned mainstream media's sudden interest and change of heart accusing them of focusing on the negative aspects of Somali American community when reporting.
The annual tournament was held to commemorate the 49th anniversary of Somalia's independence.
The Somali community's distrust of mainstream media has heightened following an FBI probe regarding alleged Somali-American teenagers going to Somalia to fight alongside Al-Shabab militants.
The soft-spoken Maashal alleged that a local TV news reporter threatened him as he tried to gain  access to the stadium by claiming he had an absolute right as an American to do his journalistic work with or without his consent.
The 6th annual Somali American Independence tournament which saw the participation of several teams from across the U.S. was held from Thursday June 25 through July 4th 2009.
Hundreds of Somali Americans residing in the Twin Cities and environs flocked to the Central High School Stadium to watch the soccer competition. Minneapolis' Somali Tigers beat arch-rivals San Diego United 3-2 in the final to win the tournament for the second consecutive year. It was deja vu all over again for San Diego as Somali Tigers beat them in last year's final as well.
A total of 16 teams participated in this year's competition which was touted to be the toughest so far.
Other teams that took part in the competition included Cedar Stars from Minneapolis, La Cruz from St Cloud, Eden Prairie, Rochester and FC Owatonna. Boston, Ohio and Dallas also sent separate teams to the tournament.
Maashal says plans are underway to organize friendly matches with Somali soccer clubs in Sweden and other parts of Europe to nurture the talent of upcoming soccer youngsters and foster mutual understanding amongst the youth. He challenged other communities not to judge the Somali-American community based on negative portrayals in the mainstream media but to take time and study his community's contributions in the U.S." Please get to know us before you judge us because we are Somali Americans and we are proud of it" he said, adding" we need encouragement and not discrimination".
He cited a lack of adequate funding as the biggest challenge facing tournament organizers and called on well-wishers to come forward and sponsor the tournament.
Participating teams consisting mainly of youth in school were paying 700 dollars to take part in the tournament. This writer while in St. Cloud, Minnesota on a different assignment a few days before the tournament encountered Ali Qeys, the Manager of La Cruz United, one of the teams that participated, on a funds drive mission. He said club members were mainly high school and college students who pool resources to raise the amount. Qeys says apart from the participation fee, clubs also pay for their own transportation, medical, and the sports kitty, an issue he said that "needs an urgent intervention".
North America Somali Sports President Abdi Ali, Abdirizack Mahboub of Cedar Riverside Center and Hussein Samatar, the Executive Director of African Development Center also graced the occasion.
Abdiaziz Ahmed mainly covers stories in the large Somali and Ethiopian immigrants in Minnesota. Prior to coming to the United States he was the Chief News Reporter for IQRA FM- the first Islamic Radio  station based in the Kenyan capital, Nairobi. He is currently pursuing a BA Degree in  Journalism in the United States.





(No Ratings Yet)


Loading...