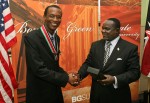 Dr. Kefa Otiso becomes Third Kenyan in the Diaspora to Receive Award
The President of the Kenya Scholars and Students Association (KESSA) and Bowling Green State University (BGSU) professor, Dr. Kefa Otiso is among four recipients of the Elder of Order of the Burning Spear (EBS) service award bestowed by Kenyan President, Mwai Kibaki, on December 12, 2008. Dr. Otiso is Associate Professor of Geography at Bowling Green University.
Because Dr. Otiso was not in Kenya to receive the award, Kenya's ambassador to the United States, Honorable Peter Ogego, flew to the BGSU campus in Bowling Green, Ohio to deliver the award on behalf of President Kibaki during a ceremony.
Dr. Otiso recalls being in a state of disbelief on receiving news of the award.  "I was very humbled since I never expected it," he told Mshale.
The EBS award, which was instituted by the government after independence, is one of the highest civilian service awards granted by the President of Kenya during Jamhuri (independence) day celebrations every December.
The EBS award comes as a result of the manifestation of Dr. Otiso' s patriotism in imparting knowledge to fellow Kenyans, facilitating academic workshops, and promoting research and scientific work about Kenya.
Speaking at the ceremony, Amb. Ogego recognized Dr. Otiso's efforts in reaching out to fellow Kenyans and Kenyan community organizations and his quest to establish an understanding about Kenya.
Through KESSA, an organization he founded, Dr. Otiso together with the officials; Dr. Maurice Amutabi, Dr. Francis Koti, and Dr. Gichana Manyara, have created a harbor from which Kenyans in the Diaspora as well as friends of Kenya can come together to sharpen their wit while promoting ideas, economic and academic gains on Kenya.  KESSA held its first conference in 2008 and those in attendance included many Kenyan scholars, former U.S Assistant Secretary of State for African Affairs, Dr. Jendayi Frazer
and Mr. Ogego.
Dr. Otiso is also one of the founders of Gusii Educational and Advancement Resource (GEAR), which seeks to improve the educational and economic standards in the Gusii districts of Kenya.  He currently serves as Secretary and Dr. Joshua Bagaka, Associate professor at Cleveland State University, serves as chair. Dr. Bagaka stated that one other aspect of Dr. Otiso' s work which usually goes unmentioned is his ability to recruit and support Kenyan students at BGSU. "Through his efforts BGSU stands out as the university in the Midwest with the highest concentration of Kenyan students. We all are proud of his work," he said.
In 2004, Dr. Otiso co-organized a conference on International Africa's Brain Drain/Gain in Nairobi and as a result, many African nations started seriously engaging the Diaspora in their development. The conference also contributed to Kenya's creation of the first Diaspora Policy Paper, which prompted the Kenyan Ministry of Affairs to start working on the Dual Citizenship Bill.
In addition to the many hats he wears, Dr. Otiso is an author, writer and editor in his own right and has written for various academic journal reviews and print media globally including Mshale.
His inspiration comes from his creator, parents, various teachers at all level of his academic experiences and his church in Toledo, Ohio. He said "Everyday life endeavors are Godly service provided they are done as unto God.  This has been a great encouragement to me over the years because it empowers me to put my talents to full use." He notes that it's important for all of us to know that God cares for every aspect of human life including the spiritual, emotional, and material. "For this reason, all of us can make a
difference no matter how small.  If we all influence one person for the better, the world would be a much better place".
Rev. Clement Muturi, pastor of Progressive Grace Church in Roseville, Minnesota said he connected with Dr. Otiso in 1997 due to his Christian background and selflessness. "He is a great man; he helped me settle in Minnesota. He is respectful, down to earth, a man of God and his community. He has served many students and is a pillar to the Kenyan community." Dr. Otiso received his doctorate degree from the University of Minnesota.
The EBS award, which was instituted by the government after independence, is one of the highest civilian service awards granted by the President of Kenya during Jamhuri day celebrations. Dr. Otiso is the third Kenyan in the Diaspora to receive the award. Other Diaspora recipients include Professor Calestus Juma, Harvard University and Professor Ngugi wa Thiongo, University of California.
Gillian Onyango is a Mshale staff writer based in Minneapolis.





(No Ratings Yet)


Loading...