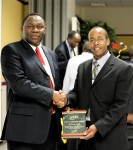 ATLANTA
– Dr. Bitange Ndemo is the recipient of the 2009 Association of Kenya
Professionals in Atlanta (AKPA) Leadership Award. Dr. Ndemo was presented with the award at the
2nd Kenya Diaspora International Conference and Investment Forum held at
Kennesaw State University. Dr. Ndemo is the Permanent Secretary in Kenya's
Ministry for Information.
The leadership
award is given annually to a person "who, through their actions, leadership,
courage and passion, has had a profound impact on the society and has served as
an inspiration to others", the AKPA vice-chair, Hana Njau-Okolo said in announcing
this year's recipient.
Dr.
Ndemo, a former Diaspora Kenyan himself, is a favorite of the Kenya Diaspora
community for his ability to break down government policy in a language that
"we can understand", said one conference participant.
Ms.
Njau-Okolo described Dr. Ndemo as a "maverick, visionary and a
pioneer" for working tirelessly to provide technology access to the
ordinary person. Ms. Njau-Okolo was full of praise for Dr. Ndemo's mentorship
to the country's youth and Kenyans in the Diaspora and in particular the encouragement
he has provided to those in Diaspora.
Accepting
the award Dr. Ndemo said in characteristic humor that he "was humbled as I do not receive many
presents."
Past
recipients of the AKPA leadership award include Noble laureate Wangari Maathai.
Follow
conference updates on Twitter.

Born and raised in Kenya's coastal city of Mombasa, Tom is the Founder, President and Publisher of Mshale. As the founder, he did a lot of the reporting during the humble beginnings of the newspaper. While he still does the occasional reporting, he now concentrates on the publishing side of the news operation. Tom was also the original host of Talking Drum, the signature current affairs show on the African Broadcasting Network (ABN-America), which was available nationwide in the United States via the Dishnetwork satellite service. On the show, he interviewed Nobel laureates such as 2004 Nobel Peace prize winner, Professor Wangari Maathai, the first woman from Africa to win the peace prize and heads of states such as the president of The Gambia, Yahya Jammeh at State House, Banjul. Tom has served and chaired various boards including Global Minnesota (formerly Minnesota International Center), the sixth largest World Affairs Council in the United States. He has previously served as President of the Board of Directors of Books for Africa, the largest shipper of donated books to Africa. He also serves on the boards of New Vision Foundation and the Minnesota Multicultural Media Consortium. Tom also served two terms on the board of the United Nations Association. He retired from running full marathons after turning 50 and now only focuses on half marathons.





(No Ratings Yet)


Loading...