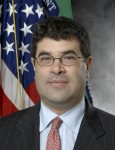 WASHINGTON
– The Obama administration today pledged more assistance to Africa in its quest
to develop. Without giving figures, U.S. Deputy Treasury Secretary Neal S.
Wolin, speaking at the 7th US-Africa Business summit said two areas in particular
need serious attention: infrastructure and agriculture and that "in both
these areas, the U.S. stands ready to commit substantial resources and
technical assistance. But we look to Africa to lead the way," he said.
Mr.
Wolin told summit participants that through U.S. government sponsored
investment arms like the Millennium Challenge Corporation, the Overseas Private
Investment Corporation, the Export-Import Bank and USAID the U.S. government is
ready to assist in projects such as the US$325 million power generation
facility in Rwanda to extract methane from the depths of Lake Kivu that will
double the electricity generation in that country.
Mr.
Wolin reiterated the new Obama approach to development assistance to Africa
"where we provide assistance to African nations, we will do so not as a
patron, but as a partner." He however emphasized that the U.S. will look
for what he called "corresponding commitment" from African countries
in exchange for assistance especially in the areas of good governance and the
promotion of strong institutions that in turn establishes an environment that
stimulates private sector investment.
Global Financial Crisis
Mr.
Wolin's address at the summit was part of a session dealing with how Africa can
look beyond the global financial crisis and financing of its development
agenda. Among panelists at the early morning session was former Goldman Sachs vice
chairman, Robert Hormats, who was last week sworn in as the Obama administration's
Under Secretary of State for Economic, Energy and Agricultural Affairs; Russell
Loubser, CEO of the Johannesburg Sock Exchange; Thomas Gibian of Emerging
Capital Markets and Saki Macozoma of South Africa's Stanlib.
Local Businesses
Mr.
Hormats told African governments that they should create an environment that
promotes local African businesses as foreign investors will be attracted to
where the locals are thriving.
On his
part Mr. Macozoma said that "some of the low hanging fruit is helping
African governments to be efficient with such things as e-government."
Emerging
Capital Partners' Libian said the next game change for Africa has to be
"the high speed internet that is being introduced throughout Africa."

Born and raised in Kenya's coastal city of Mombasa, Tom is the Founder, Editor-in-Chief and Publisher of Mshale which has been reporting on the news and culture of African immigrants in the United States since 1995. He has a BA in Business from Metro State University and a Public Leadership Credential from Harvard's Kennedy School of Government. He was the original host of Talking Drum, the signature current affairs show on the African Broadcasting Network (ABN-America), which was available nationwide in the United States via the Dish Network satellite service. On the show, he interviewed Nobel laureates such as 2004 Nobel Peace prize winner, Professor Wangari Maathai, the first woman from Africa to win the peace prize and heads of states. Tom has served and chaired various boards including Global Minnesota (formerly Minnesota International Center), the sixth largest World Affairs Council in the United States. He has previously served as the first Black President of the Board of Directors at Books for Africa. He also serves on the boards of New Vision Foundation and the Minnesota Multicultural Media Consortium. He has previously served two terms on the board of the United Nations Association. An avid runner, he retired from running full marathons after turning 50 and now only focuses on training for half marathons.





(No Ratings Yet)


Loading...