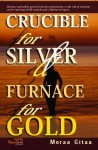 Book Review
Title: Crucible for Silver and Furnace
for Gold
Author: Moraa Gitaa
276 pages. Nsemia Publishers
$15 (on Amazon.com)
Moraa Gitaa's appealingly titled novel "Crucible for Silver and Furnace for Gold" is her first entry in pursuit of this prize: a romantic love story that not only captures the flavor of its time and place but also contains a more consequential, even transformative significance. And Gitaa exposes some genuine concerns of trust, fear, and loneliness.
Here are two beautiful and fascinating characters who come from distinct backgrounds in every aspect but are connected by a common virtue and need: Love.  Lavina Kante and Giorgio Santini develop magnetic attractions to each other despite having unsettled issues that range from lack of self-esteem to mistrust. Lavina is a lost soul, plagued by betrayal and ostracized by her family. She is consumed with depression and becomes desperate to end her life.
The long haired, fair skinned and curvy lab technician takes a sabbatical to seek refuge in Malindi at Tim and Lynne's residence. The concerned and kind couple open up their home and take her as one of their own. Lynne is a close friend of Lavina. The two have known each other since childhood. Tim who is the husband of Lynne is the mayor of Malindi. The couple is very understanding and allow Lavina to stay as long as she pleases. Curving soapstone for friends is a talent and basking in the beach her favorite past-time, both of which help her relax and put her troubles in remission.
It is at the beach where Lavina attempts to end her life by swimming deep into the ocean for the mighty tides to swallow her. Ironically she gets another chance at starting a new life with a handsome shrewd Italian entrepreneur and her knight at that moment.
Giorgio and Lavina have common interests in African art, music, food, books and even the finer things in life. Giorgio is a wealthy developer with establishments scattered in various towns of Mombasa. He travels extensively both locally and abroad and needless to say is passionate about his work. But the one bug that bites and has him re-scheduling for lovers time is Lavina. He turns out solid and unshaken by her state of health or the implications it may have on him or on their relationship. For Lavina it's a struggle of fear of not being accepted, not being loved, not trusting to be loved as is and the possibility of never having children of her own.
The book presents various social, economic and political issues as relates to society in Kenya today. Stigma and discrimination among people affected with sexually transmitted diseases (STDs) is inarguably prevalent. Fears about family rejection, loss of a job and public shunning impedes the effectiveness of prevention and care efforts. Lavina came to terms with these encounters after Giorgio's bold step of acceptance and assurance to love and care for her.
Although creating awareness, counseling and increasing the opportunities for contact with people living with HIV and AIDs is an ongoing effort, silence and discrimination are still widely practiced.
Interestingly Gitaa brings up the controversial use of traditional herbs and medicines, which is believed to cure many terminal ailments such as HIVAIDs.
The history and politics of Kenya are intertwined. Every success or instability has a historical component. For instance land allocation and ownership, which was initially taken over by white colonial settlers, has never been justly re-allocated to the rightful owners or their generations. Instead, politicians and powerful individuals' misuse and abuse their power to acquire these lands illegally to achieve their own means.
To that end, it is not surprising therefore that Giorgio is met with resistance from the locals who oppose a proposal to build an extensive bridge that may appear to disrupt their routine. Giorgio is running into problems because he unknowingly bought land from a corrupt district commissioner. Page 164.
Gitaa speaks about current affairs in Kenya and more so in Mombasa. Many Africans and specifically Kenyan natives can at least remotely relate to the events and experiences she describes. Crucible for Silver and Furnace for Gold will renew the desires of Kenyans in the Diaspora to go back.
Mombasa for many signifies pride, rich traditions and culture, renowned history and the influx of Europe citizens, notably Italians who have fallen in love and married the place, culture and the people. The Indian Ocean, the soapstone arts, the indigenous foods, the rain forests and the hospitality of the people in this coastal region beckon me. Geographers and nature lovers would love to learn and experience the history of the region and of such places as the more than 50 Sacred Mijikenda Kaya forests that have been named a world heritage site by the UNESCO convention. Page 123.
The author's style of writing is atypical of African writers. It moves away from the usual traditional themes and settings famously authored by household names such as Ngugi Wa Thiongo, Chinua Achebe and Grace Ogot et al.
It's an interesting shift in the sense that seldom will you find African writing infused with a western style. Some may resist her style with an excuse that it does not represent the lifestyle of the African continent but the writing is in fact justified given the time, region of the plot, and the characters. They are modern, educated, powerful, and intelligent.
On the contrary, one aspect I could not help noticing was over emphasis of their class. The designer clothes, shoes and perfumes worn by Giorgio and Lavina. Every description of their physical appearance was adorned with description of famous designer clothing, perfume and shoes. Although I was a little taken back with the lack of suspense to the ending, fairy tale endings still do exist.
The book is a good read. It contains very descriptive writing that is graceful and prolific and the absence of melodrama makes it even more genuine to the point I imagined I was Lavina.
What character would you play? Find out.
Buy it at Amazon.
Gillian Onyango is a Mshale staff writer based in Minneapolis.





(No Ratings Yet)


Loading...