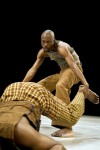 Two continents, two great rivers, and two of contemporary dance's biggest talents: The Good Dance: Dakar/Brooklyn is the culmination of a landmark three-year collaboration between American dance/theater-maker Reggie Wilson and Congolese contemporary dance creator Andréya Ouamba. As a new commission receiving its world premiere at the Walker Art Center, the piece will be polished during a two-week residency that includes rehearsals and production work as well as community gatherings, workshops, and a master class.
The world premiere of The Good Dance: Dakar/Brooklyn will be performed on Thursday-Saturday, November 12–14, at 8 pm in the William and Nadine McGuire Theater.
"Our priorities have shifted and crystallized over time," says Wilson, who met Ouamba on his first trip to Senegal in 2002. Delving into the vocal sounds, movement, and visual and emotional landscapes of African American and African culture, The Good Dance unearths deep connections between the Mississippi River delta in the United States and Central Africa's Congo River basin. It also brings forth the personal experiences of each choreographer, tying them into the concept of bodies and movement carrying moral traditions.
Wilson continues: "I saw a movie in which one character was repeatedly referring to 'the Good Book.' It really resonated for me, how in Western traditions, people go to texts—the Torah, the Koran, the Bible—for guidance and laws. But in African religions, there's no text. They're centered around oral traditions, but also around how the body is organized in space: through rituals and ceremonies, through gesture, the way in which you carry yourself. That's where your information is, and you read other people's bodies for their information. That moral guidepost is in the human body, so you don't have a good book, you have a good dance.
"Andréya and I began talking about how that idea of 'the good dance' connects with movement artists in how they carry their work in their bodies, and it has become a primary concern in our piece. It involves looking through the lens of Andréya's and my experiences, asking questions about who we are, and sharing where we've come from. We hope it won't stop there. By being specific about who we are, if we treat these things respectfully, it resonates into other places, other times, other people and their own traditions. We want to get at the big stuff without trying to be big – but instead look at the details and minutiae of the physical experience of our lives."
Reggie Wilson/Fist & Heel Performance Group is a Brooklyn based dance company which blends contemporary dance with African traditions. The company makes brilliant new performance from the spiritual traditions of the African Diaspora. Wilson draws on the movement idioms of blues, slave, and worship cultures to create what he calls "Post-African Neo Hoodoo Modern dance."
Accompanied by their own driving rhythms—body percussion, aspirated breath, singing, and shouts, Fist & Heel blends deep ritual into potent, beautiful and energizing contemporary dance.
Wilson's research on the secular and religious aspects of life in the African American communities of the Delta and the central African countries of Cameroon, Gabon, and Congo (Brazzaville), as well as a multiyear exchange and collaboration between Reggie Wilson/Fist and Heel Performance Group and Ouamba and his Company, 1er Temps based in Dakar, Senegal, will be contextualized into the The Good Dance. The piece has been awarded a National Dance Project production and touring grant.
Born in Congo, based in Senegal, Andréya Ouamba is one of the major emerging choreographers in West Africa. He won first prize at the prestigious competition Danse L'Afrique Danse 2007 with the duet Improvisé 2, which has since toured globally.
Ouamba was invited by Festival Avignon to commission a solo for himself from Kenyan artist Opiyo Okach, which toured internationally, including Theater der Welt in Germany in summer 2008.
Ouamba is a catalyst of dance development in Dakar. He is artistic director and organizer of AEx Corps, a workshop and experimental program for West African dancers.
Tickets to The Good Dance: Dakar/Brooklyn are: Thursday, $18 ($15 Walker members); Friday (post-show Q&A) and Saturday, $25 ($21) and are available at walkerart.org/tickets or by calling 612.375.7600. The McGuire Theater's Balcony Bar will be open at 7 pm and after the performances. More details at www.walkerart.org





(No Ratings Yet)


Loading...