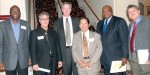 St. Paul Mayor Chris Coleman has affirmed the city's commitment to do right by communities of color, small businesses, women-owned businesses and other disadvantaged businesses through restructuring city government to create new ways to do business with the City of St. Paul.
The mayor made the commitment during a special broadcast of Conversations with Al McFarlane aboard the historic Centennial Showboat at Harriet Island.
The program promoted engagement, opportunity, awareness and support for minority, women and small business development and was put together by the Riverfront Economic Development Association (REDA), the powerful business support and promotion organization that serves St. Paul's West Side community, and the Minority Business Development and Retention division of St. Paul's new Human Rights and Equal Economic Opportunity (HREEO) Department. The Twin Cities Local Initiative Support Corporation (LISC) co-sponsored the public policy forum broadcast.
While it is appropriate to discuss how businesses navigate challenging economic times, Coleman said the emphasis should be on the "season of opportunity" now at hand in St. Paul.
"Everyone knows about the $1 billion of investment that will occur along the University transit corridor. But there are other opportunities occurring across the city on the West side, on the Eastside, on the North End and on Payne Avenue and Arcade Street," he said.
Coleman said the City of St. Paul must ensure that minority- and women owned and disadvantaged businesses are part of the opportunity.
"I think we're doing our part," he said. "Four years ago when I took office we realized we were not properly organized or focused to make sure that we were providing opportunities for all of our citizens and business owners. City Attorney John Choi, acting on recommendations of a formal audit of St. Paul efforts to ensure inclusiveness, asked people what they needed. He made recommendations for changes we needed to go forward. We made a very dramatic change in opening up the Department of Human Rights and Equal Economic Opportunity. We created a new way of doing business. We are making sure that people can succeed and that as minority-owned businesses and women-owned and disadvantaged firms, you have the resources you need to be successful.
"We're figuring out where we can partner with people. We have new loan programs. A lot of people are traveling light right now. They're fearful about the recession," Coleman said.
"We are asking what we need to do to assure those businesses that are struggling. So we can drive business in that direction. These are things we can do and will continue to do. We need to hear from all of you. What are the things that you want us to do that were not doing. How can we continue to restructure and organize to create opportunity?
"This is not just a morally right thing to do, but it's economically the right thing to do as well. When we invest in businesses, those dollars turn over again and again and again in our own community. When we support our small businesses, we stabilize our neighborhoods," Mayor Coleman said.
Chris Romano, executive director of REDA said his organization serves two functions. First as a business association, a mini chamber of commerce with over 100 members. "We hold training and networking sessions. We provide loans. Secondly we have a community development corporation function. Our responsibility is to ensure Westside revitalizes in the best way possible, from a business and community perspective", he said.
"If you own a small business on the Westside and if you need money to expand your business to buy additional machinery and to be successful we can provide those funds. We do that In connection with community banks and the city of St. Paul," he said.
Romano said REDA also provides small business grants. "One of the nice things about a grant is that you don't have to pay it back." He said the grants are for façade improvements, like signage, windows, and entryways, things that improve the look of the business. The grants require a 1 to 1 match with a limit of $5,000 from the grant. So a project could cost up to $10,000 with the business providing half of the project cost.
Adolfo Cardona, publisher of Latino Midwest, joined fellow publishers, Nghi Huynh, of Asian American Press, and Tom Gitaa, of Mshale, and David Glass, executive director of the American Indian Economic Development Fund, in raising Meet-the-Press style questions of forum presenters.
Forum presenters besides Mr. Romano included Tomas Sanchez, executive director of Invest St. Paul which coordinates planning, zoning, and traffic transit environments to support small business development; Readus Fletcher, deputy director, Human Rights and Equal Economic Opportunity (HREEO,) who heads St. Paul's Minority Business Development and Retention initiative; Bob Kessler is director, department of safety inspections (DSI); Larry Zang (DSI); Susan Feuerherm, Acting Purchasing Manager, City of St. Paul; Angela Burkhalter, Public Information Officer – project manager, Minority Business Development and Retention (MBDR);John Kimball, Senior VP of Park Midway Bank.
Saint Paul second ward councilman, David Thune, who was one of the panelists at the forum, said that while government cannot be the "be all and end all" for small business, he said, "We need to demand responsible partnerships. And when partnerships and projects that we set up don't go exactly the way we want, we shouldn't throw everything out and just walk away, despite the good work that has been done."
This first of its kind broadcast program also reflected the emergence of a unique multi ethnic and multi-media platform for examining and promoting business and economic development in communities of color.
Editor's note: You can access an archive of the broadcast online at www.kfai.org. It will be the 10/27/2009 show.
Insight News contributed to this story.





(No Ratings Yet)


Loading...