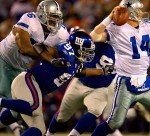 In the months leading up to the 2010 World Cup – the first to be held in Africa – all eyes will be on soccer teams from every part of the globe. Soccer (as it is called in the United States) is understood and well-liked throughout the world, where it is usually known as "football."
But "football" in the United States means American football, and though it is the most popular sport in the United States, it does not get much traction outside the country. While passion for American football remains almost exclusively rooted in North America, the players increasingly are from diverse backgrounds, and more and more of them are from Africa. The number of first- or second-generation American athletes from Africa has multiplied over the past few decades.
African athletes already have established a solid presence within the U.S. National Football League (NFL). In fact, an outstanding University of Nebraska athlete whose mother is from Jamaica and his father from Cameroon – Ndamukong Suh – is a top professional prospect in the United States.
One of the first African-born players to stand out in the NFL was Christian Okoye of Enugu, Nigeria, the Kansas City Chiefs running back from 1987 to 1992. Nicknamed "the Nigerian Nightmare," Okoye still is very popular, and is remembered for his surprising speed and ability to break free from tackles.
But for many young American football enthusiasts, he represented something more: a first encounter with an African athlete, and a first connection with Africa. "Okoye was the reason I first looked up Nigeria on a map," says Drew King, a Washington sports bar manager and football fan.
Some 20 years later, the NFL boasts dozens of athletes who are recent immigrants from Africa. Nearly every team has at least one such player, and both the Chicago Bears and the St. Louis Rams have four each. Immigration trends have something to do with this: more sub-Saharan Africans have immigrated to the United States over the past few decades than at any other time in history. The 2000 U.S. Census revealed that the influx of Nigerians, Ethiopians and Ghanaians, (the three largest groups of African immigrants to the United States), had increased by 370 percent, 220 percent and 235 percent, respectively, in 10 years.
Despite these gains, the sub-Saharan African-American community remains small, representing only 3.7 percent of the U.S. population, larger only than the community of immigrants from Oceania. But it is the presence in the NFL of athletes of African and Polynesian descent that has increased most dramatically in recent years.
Football requires speed, strength and size. The African football players have these traits, and they have something more: the drive and discipline to succeed on and off the field. These athletes have been shaped by challenges they faced as immigrants, and by a will to succeed instilled by parents who came to the United States to offer them a better life.
Success in the classroom, Powerhouses on the Field
Nearly all American professional football players join the NFL after going to university and playing college football, which has slightly different rules from the professional version. Though American schools offer both athletic and academic scholarships, most students obtain only one, and the competition to attain either is intense. But many of these African-American athletes in the NFL have managed to do both.
For example, for several Nigerian-American athletes currently playing for the Houston Texans, achieving academic excellence is just as important as displaying physical prowess on the field.
Xavier Adibi, the Texans' 25-year-old linebacker, is the son an immigrant who came to Oklahoma State University to play soccer and eventually earn a doctorate in biochemistry. Along with his brother Nathaniel, Xavier attended Virginia Polytechnic Institute after graduating from high school as a Virginia state champion. Throughout his high school, college and professional careers, Adibi has been praised for being smart as well as fast.
Ndamukong Suh, a Cameroonian American currently completing his studies at the University of Nebraska, is widely considered to be one of the best professional prospects in the United States.
Frank Okam, a defensive tackle, earned his degree in sports management from the University of Texas in three and a half years. Despite the class load, Okam was a five-time member of the university's Athletic Director's Honor Roll and a member of a national championship team.
Amobi Okoye, also a defensive tackle, is considered by some to be one of football's most remarkable prodigies. Born in Anambra, Nigeria, he moved to Huntsville, Alabama, at age 12. After spending two weeks in middle school, he was promoted to high school freshman. As a sophomore, he took up football and quickly mastered the sport as both a defensive and an offensive lineman. At 16, he entered the University of Louisville and became the youngest player in the National Collegiate Athletic Association. Also graduating a semester early, Okoye became the youngest player to be drafted in the first round of the draft by the NFL at age 19. He plans to continue his education at Harvard University, where he was accepted in 2005, after he retires from professional football.
Lives Transformed, Careers Shaped by Hardship
Other African NFL players are able to overcome challenges on the field in part because they have already overcome the challenges of conflict, poverty and loss.
Born in Indianapolis, Indiana, Mathias Kagimu Kiwanuka, a defensive end for the New York Giants, is also a proud son of Uganda. While studying at Boston College, Kiwanuka kept a Ugandan flag on display in his dorm room in remembrance of his grandfather Benedicto Kiwanuka, who was elected the first prime minister of Uganda in 1961 and assassinated by Idi Amin supporters in 1972. Shortly after fleeing the political turmoil that left thousands dead during Amin's dictatorship, his parents divorced. His mother began a housecleaning business to provide for her three children.
Minnesota Vikings tight end Visanthe Shiancoe was born in Birmingham, England, shortly after his mother escaped Liberia as civil war broke out in 1980. Fearing that her sons' lives might be endangered by the conflict that ravaged the country for nearly two decades, she left a comfortable lifestyle and eventually sacrificed her marriage to secure a safe environment in Washington for her children. Working two jobs and sewing her own clothes, she has provided Shiancoe with a lifelong role model, and he credits his ability to bounce back on the field to his African mother's unwavering resilience.
African and American Champions, Local and Global Role Models
Many of the recent African immigrants in the NFL have chosen to give back to their communities, both in the United States and in Africa, and have become role models for youth on both sides of the Atlantic.
Akinola "Akin" Ayodele, a Nigerian-American linebacker for the Miami Dolphins, is famous for his strong faith and commitment to giving back. Having already won several awards for his advocacy on behalf of the poor and the sick, he recently founded Akin's PATH, a charitable organization that partners with Big Brothers Big Sisters of Greater Miami to mentor underprivileged youth. The foundation also calls on all Dolphins fans to volunteer as mentors.
Cincinnati Bengals safety Chinedum Ndukwe belongs to a prominent Nigerian-American family. His older brothers include Ikechuku, an offensive lineman for the Miami Dolphins, and Kelechi, an Iraq war veteran who currently serves as the U.S. Navy liaison to the U.S. Senate. After attending Harvard Business School during the offseason, Chinedum began a trust fund with his brother Ikechuku, with the intention of launching a charitable organization that would enable them to give back to both their hometown and their homeland. The now-operational Ndukwe Foundation promotes well-being and healthy lifestyles in local communities and across the Atlantic. In addition to financing an entire football season for a youth team in one of the most underprivileged neighborhoods in Columbus, Ohio, Chinedum visited Nigeria with Ikechuku to start a football camp where their parents were born and raised.
New York Jets safety James Ihedigbo's parents, Rose and Apollos, left Nigeria in the 1970s and settled in Amherst, Massachusetts, where they raised four children and both earned doctorates from the University of Massachusetts. After playing basketball, lacrosse and track in high school, James also went on to study at the University of Massachusetts, majoring in sociology. His combined passions for athletics, education and social issues have led him to reach out to youth in both the United States and Africa. He frequently visits schools to engage students in discussions about the importance of hard work and faith. He also advocates for, and spends time with, children suffering from sickle cell anemia, a disease affecting about one in every 500 African Americans. Following his parents, who returned to Nigeria to establish the Nigerian Agricultural Technical Community College, James recently founded the Hope Africa Foundation, a charitable organization that provides young Nigerians with scholarships to ensure the completion of their education.
One of the greatest obstacles to diversity in the world of American football is the sport's relative nonexistence outside the United States. Although the NFL has organized several overseas expansion games, none have yet taken place in Africa.
Ashton Youboty, a Liberian-American cornerback for the Buffalo Bills, told the cable sports network ESPN in 2006 that "good athletes come from all over. I'm sure there are a lot of world-class athletes in Africa right now, people whose skills would allow them to play in the NFL if they just got the right break. I was lucky. … How many other African kids do you think there are who could do the same thing if they learned the game? The truth is, a lot, I'm sure."
At a time when cell phones and the Internet are closing cultural and communication gaps that once separated Africa from the rest of the world, news of the rise in high-profile African players in the NFL may lead African audiences to become familiar with – and fans of – American football.





(No Ratings Yet)


Loading...