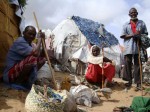 NAIROBI – An estimated 63,000 people have been displaced from their homes in Somalia in just the first few weeks of this year due to ongoing fighting, the United Nations refugee agency reported.
Some 14,000 of them were uprooted in the capital, Mogadishu, where clashes last week between Government forces and Al-Shabaab and Hisb-ul-Islam militants left at least 10 people dead, including children.
Similar clashes last year in the capital displaced hundreds of thousands of people, many of them for the second time in the course of a year in the strife-torn nation, which has not had a fully functioning national government since 1991.
The UN High Commissioner for Refugees (UNHCR) added that fresh fighting between the Government-aligned Alu Sunna Wal Jamma militia and Hisb-ul-Islam erupted in the central Somalia town of Belet Weyne on 9 January, reportedly killing at least 30 civilians and injuring another 50.
Thousands have fled their homes and an estimated 11,900 have temporarily settled around Belet Weyne in what the agency described as "appalling" conditions.
In the town of Dhuusamarreeb, in the central region of Galgaduud, renewed clashes between Alu Sunna Wal Jamma and Al-Shabaab early this year has forced some 28,800 people from their homes. They are now sheltering in surrounding villages and in urgent need of shelter, water and health care, said UNHCR.
"As the struggle for control of the territory continues, insecurity makes it extremely difficult for aid workers to access the area and deliver vital assistance," UNHCR's Melissa Fleming told reporters in Geneva.
According to the agency, there are some 1.5 million internally displaced persons (IDPs) in Somalia, and more than 560,000 people living as refugees in neighboring countries, mainly in Kenya, Yemen and Ethiopia.






(No Ratings Yet)


Loading...