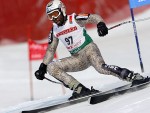 Ghana is set to compete in its first Winter Olympics event at the Vancouver Games. Kwame Nkrumah-Acheampong will make his debut in the Men's Slalom, scheduled for February 27th. The 35 year-old Scottish-born athlete only took up skiing six years ago while working at an indoor ski center in England, and has come a long way since becoming a winter Olympian.
Kwame Nkrumah-Acheampong, better known as 'The Snow Leopard', is set to become the first athlete from Ghana to represent his country at the Winter Olympics. He will compete in the Men's Slalom next week.
The 35 year-old's story is a real tale of triumph over adversity.
<object width="320″ height="265″><param name="movie" value="http://www.youtube-nocookie.com/v/fw3i8YSmqn4&hl=en_US&fs=1&"></param><param name="allowFullScreen" value="true"></param><param name="allowscriptaccess" value="always"></param><embed src="http://www.youtube-nocookie.com/v/fw3i8YSmqn4&hl=en_US&fs=1&" type="application/x-shockwave-flash" allowscriptaccess="always" allowfullscreen="true" width="320″ height="265″></embed></object>
Arriving in Whistler on Thursday, the center of the Olympic Alpine Skiing events, Kwame received a warm welcome from fans who gathered beside the Olympic Rings.
Born in Scotland, but raised in Ghana, in the last six years, the former employee at an indoor facility in the English town of Milton Keynes, has largely taught himself to ski in Europe. Back in Ghana, of course, there is very little snow.
With no formal ski resorts in Ghana, the "Snow Leopard" has had to fill many roles. Vancouver 2010 is all about exposure and development for skiing in Ghana – everything is on a shoestring budget for now, but no one knows what the future holds.
The Snow Leopard is a heavy underdog but he says he'll be happy if he finishes other than last. The Men's Slalom is scheduled to be held on February 27th.





(No Ratings Yet)


Loading...