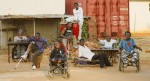 A nine-piece music group from Bulawayo is proving that disability is not inability after landing an Oscar nomination for Short Documentary.
Music by Prudence is a short film produced by Prudence Mabhena, the lead singer of Liyana.
Liyana's music was described by one magazine as "a fresh, bright sound led by a singer with the voice of an angel."
The 35-minute documentary charts the band's life story, with special focus on the 22-year-old Prudence who was born disabled and suffered rejection by her family at an early age.
The group, who got together at Bulawayo's King George IV School for Children, was discovered by Zimbabwe-born Leslie Goldwasser. Now based in the United States, Goldwasser liked their music and Prudence's life story while on a visit to Zimbabwe, leading to the group's first tour of the United States where they performed at the Apollo Theatre in December last year.
While in the United States, they befriended rocker Sting and the widow of John Lennon — Yoko Ono — who recorded a song with them at the John Lennon Bus.
Speaking by telephone from Bulawayo, Prudence told of her pride this week, but revealed she would NOT be at the March 7 Academy Awards because her American visa expired.
She said: "I am very proud about the nomination, it's the best thing ever to happen to me. The whole group is excited about this and we hope we will win.
"I wish I could be there for the awards, but my American visa expired and there is no time left."
Each member of Liyana was born with or developed a serious physical disability since birth, and seven members of the group move around with the aid of a wheelchair, including Prudence.
Music by Prudence is up against China's Unnatural Disaster: The Tears of Sichuan Province, The Last Campaign of Governor Booth Gardner, The Last Truck: Closing of a General Motors Plant and Rabbit à la Berlin.
The 82nd Academy Awards will air on Sunday, March 7 on ABC at 7:00 P.M. CST.





(No Ratings Yet)


Loading...