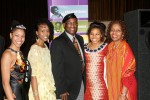 Decades Old Conference in Mankato Renamed In Honor of Founder
MANKATO, Minn – The Pan African Student Leadership Conference in Mankato will be renamed in honor of its founder, Dr. Michael T. Fagin. The announcement was made at this year's annual conference held February 24-27.
Minnesota State University Mankato President Richard Davenport, along with Mankato Mayor John Brady when officially renaming the conference also proclaimed Friday, February 26 as "Dr. Michael T. Fagin Pan African Student Leadership Conference Day."
For the last 34 years, students from across the nation have come together for a symposium that was developed by Dr. Fagin, who was inspired to bring together African students after studying the work of Pan-Africanist Kwame Nkrumah during a 1972 trip to Ghana. The conference attracts over 1,000 participants each year.
Fagin, a long-time Minnesota State Mankato diversity leader, founded the conference back in 1977 with support from Professor Mahmoud El-Kati, a now retired Macalester College faculty member. The university's Office of Institutional Diversity joins other University and community groups sponsoring the event.
"I started this conference because I wanted African Americans across the country to connect to their African heritage," said Dr. Fagin. "Kwame Nkrumah inspired me to return to the university and teach others about the need for unity amongst African peoples."
In its 34th year, the conference is anything but different. The event still enables students, experts, scholars and community members to examine and explore the issues that affect African people worldwide.
Each year the conference delivers a full program featuring prominent experts and talented students. The conference aims to enlighten, educate, culturally uplift students of color and establishes student leadership all while getting connected to their African roots.
"People being ignorant about each other are less likely to work effectively work with each other," said Dr. Fagin. "Learning about different cultures is going to reduce the hatred that people have for each other. That is the essence of this conference."
This year's theme was "Pan African challenges and solutions to world wide problems." The conference was calling for the unity of African people and to stop the ruination of Pan African communities both locally and regionally. 
This year was no different than years past as the conference did not disappoint in delivering a rich menu of poetry and cultural programs such as the "African Dress Day" where delegates are encouraged to wear African clothing or regalia.
The opening day marked the ninth annual Somali Cultural Day and talks centered on Somali issues, including Somali youth at risk, Somali media challenges, and leadership practices and issues in the Somali Diaspora.
"With the influx of Sub-Saharan cultures coming into Minnesota and a large constituent of that culture was Somali, it made sense to put emphasis on the Somali culture," said Dr. Fagin. "We hope to continue to preach out to incorporate Southern Sudanese, Oromo people, Ethiopia, Gambia and other areas in the near future."
Friday's program included entertainment by the Burnsville Step Team and various presentations of different dances.
Motivational Speakers
With panel presentations that discussed issues from Black leadership to engagement and effective student leadership in the Pan African community, the conference offered motivational talks that attendees admitted to anticipating each year.
A revisited theme throughout the conference was the accountability at an individual standpoint in order to help the larger African community. The notion of bettering one's self to help the collective community.
Panel speakers and keynote speakers emphasized the importance of responsibility at the individual level through education and hard work. Tyrone Fagin, son of Dr. Fagin, discussed developing self to insure success. He talked about his own experience as an African American who has achieved a great amount of affluence in his life.
"Start to think like you are successful," said Fagin. "In order to insure your success, you have to make a choice. You have to put in ridiculous amount of effort to become successful."
Another speaker was Chike Akua, the keynote speaker at Friday's dinner. Mr. Akua is a graduate of Hampton University and Clark Atlanta University. He was selected as one of Ebony Magazine's "50 Leaders of Tomorrow" and is a prolific author and a dynamic speaker. He lectured on Pan African perspectives and how to come to a level of commitment, consciousness and character. Encouraged students to become entrepreneurs and not employers. He told students and other members of the audience to focus on a career and not on getting a job.
"If you don't have a vision, you will perish," he said. "Have a vision and make it vivid and not vague."
Trena Bolden Fields, an actress, writer, speaker and life coach, graced the audience with her performances as Rosa Parks and Fannie Lou Hamer. She portrayed the lives of these women and the important role they played in the history of the African American movement.
Dr. Tamrat Tademe, a St. Cloud State University professor of Human Relations and Multicultural Education talked about the difficulty of changing the institutions of this country even when an African American president is in office.
"Although he has won the White House, that does not necessarily translate with us being able to solve all of our problems, " he said. "Most of the institutions of this country are entrenched and do not want to change or bring about racial justice."
Spike Moss was one of the speakers many students looked forward to hearing. Moss is a past President of the Minnesota Black Contractors Association and member of the coalition of Black Churches/African American Leadership summit. He has been honored for his work with inner city youth and people of color from the St. Paul Urban League, Jostens Foundation and the City of Minneapolis.
"Students have to become the next generation of leaders," he said. "Students have got to stand up because this will be their role whereas our responsibility is to give them the tools they need to become successful. We can't turn our backs on them, we have to encourage and support them."
Student Leadership
Students also participated in presentations and panel discussions. There were papers presented at the conference that examined many issues facing the Pan African community. Panel discussions included an intense debate about the "N" word. While some said it was acceptable to use the word, others argued the world should be completely abolished. Spike Moss, as an audience member, gave a small talk about how the usage of the "N" word is harmful to the Pan African community.
"You talk trash about yourself and you think about who did it," said Moss. "We have to respect ourselves. There is only one race and it is called the human race. We are just different nationalities, but never a different race."
Other student panels included life as a black athlete at a predominantly white school. The students discussed how collegiate sports enable black students to receive a college education. MSUM student Anthony Hunter talked about his experience as a minority athlete who has used his sporting talent as a way to transcend race relations.
"Although I did not experience racism in school, it is something that definitely motivates me to continue my education and move forward so I can educate others," Hunter said. "
Said Ali, 21, is a junior at MSUM pursuing a degree in Urban Planning and Professional Geography. He has attended the conference the last three years and said the conference is very significant.
"It is very important because students and non-students learn a lot about this conference," said Ali. "It taught me to not forget about my roots and where I come from because that will help me know where I am going."
Saturday night's schedule included a talk by Moss who explored the impact of internalized white racism on the Pan African community while students ate dinner. Later, Mr. and Mrs. Pan African Talent ceremony begin. Student contestants competed against each other through rounds of talent and question and answer segments. The winners were Michelle Berry and Shirwac Hirsi. Winners received crowns, statue heads of African king and queen among other things donated by Walmart and other companies.
"I hope that we put enough in the young people that are here that they will have a burning desire to make sure that this type of conference continues long after Dr. Fagin is gone away from here," said Dr. Fagin. "I am looking for the future of this conference to be in the students that are attending today."

Sahra Mohamud is a Mshale Staff Reporter based in Minneapolis. She is an alumni of the University of Minnesota School of Journalism and Mass Communications.





(No Ratings Yet)


Loading...