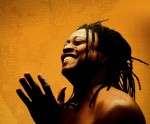 Mali lends us Habib Koité once again.  Traveling in a broad western sweep of the United States starting at the beginning of the month, Koité will perform at the Cedar Cultural Center on March 30th.
Along with his band, Bamada, which includes Kélétigui Diabaté playing balafon, Koité brings his relaxed, guitar-driven sound to an audience that's had several opportunities to hear him in Minneapolis.
His last album, released in 2007, includes a bluesy harmonica as well as more traditional African instruments such as the kora, calabash, and kamala ngoni. His last show at the Cedar focused on dancing with minimal seating available, as will this upcoming show.

Says executive director Rob Simonds, "Habib is one of the preeminent touring African artists. He draws a good audience; he's charismatic and along with his band plays fantastic music. Why wouldn't we bring him back?" Simonds rhetorically quips.
Why not, indeed. His shows sell out and he traditionally plays a couple of lengthy sets. Doors open at 7:00 with a start time of 7:30 pm. More information and tickets for purchase available at the Cedar's website.
Editor's note: Mshale is giving away a pair of tickets each week in March at our facebook fanpage. Post a comment where Habib Koite's photo appears on our fanpage and you and a friend could go see him for free. Weekly drawings will be done using Random.org services.
Susan is based in Minneapolis and reports on general assignments for Mshale with a focus on entertainment. In addition to reporting, she is also a writer, poet, teacher and coach.





(No Ratings Yet)


Loading...