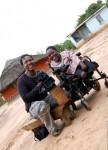 South African film, documentary about Zimbabwe showcased at awards ceremony
This year, the 82nd annual Academy Awards ceremony, reflected the growing influence of African artists — and issues — on the American movie industry.
For the first time, a film written and directed by an African was nominated for Best Picture. District 9, written and directed by Neill Blomkamp of South Africa, and set in modern-day Johannesburg, offers a bleak imagining of the social consequences of extraterrestrials landing on Earth. The film's principal themes of xenophobia, racial segregation and forced evictions, as well its title, are deeply rooted in the history of apartheid in South Africa. Shooting on location in Chiawelo, Soweto, the cast and crew of District 9 were overwhelmingly South African, and all but unknown to American audiences.
District 9 enjoyed a resounding and immediate success in the United States, opening as the Number 1 box office hit during the weekend of August 14, 2009. The science-fiction movie became a surprise hit with moviegoers and critics alike. Rotten Tomatoes, a U.S. online aggregator of film critiques and ratings, described the film as "technically brilliant and emotionally wrenching," and reported that it got 90 percent positive reviews.
Though District 9 did not win any of the four Oscars for which it was nominated, it received kudos from the critics.
The film Tsotsi by South African Gavin Hood picked up the Academy Award for Best Foreign Language Picture in 2005, and District 9's 2010 success indicates that the South African movie industry is making an impressive impact on Hollywood.
In the documentary category, Music by Prudence, a film about a young Zimbabwean singer whose voice could not be silenced by abandonment, abuse or abject poverty, picked up the award for Best Documentary Short (short film). Director Roger Ross Williams, an African-American from a Gullah community in South Carolina, learned about Prudence Mabhena from his producer, Elinor Burkett. He flew out to Bulawayo, Zimbabwe, and spent two weeks with Prudence at King George VI, a school providing rehabilitation, boarding and education to children with physical disabilities and hearing impairments — the only one of its kind in Zimbabwe. He then returned to the United States to raise funds to shoot the documentary he knew he had to make about Prudence and Liyana, her band of fellow disabled musicians.
Prudence's story is one of courage, hope and exceptional music. Music by Prudence will be on television in the United States in May, and will be shown at film festivals all over the country.
In addition to African stories, African actors were also in the spotlight this year. Nominated for Best Performance in a Lead Role, Gabourey Sidibe, whose father is from Senegal, earned praise for a breakthrough performance in the movie Precious: Based on the Novel "Push" by Sapphire. Playing an obese, illiterate, abused and pregnant teenager, 26-year-old Sidibe was hired after only one audition with the film's director. Though she did not come home with the Oscar, her performance earned critics' praise. During the Oscar ceremony, Precious co-producer Oprah Winfrey, known for her efforts to support female education in Africa, paid tribute to Sidibe, saying that the young Senegalese-American was "on the threshold of a brilliant new career."
Finally, Invictus, a highly acclaimed American film about a historic moment in African history, garnered two Academy Award nominations, for Best Actor in a Lead and Best Actor in a Supporting Role. Filmed in Cape Town, South Africa, Invictus stars Morgan Freeman as Nelson Mandela and focuses on Mandela's early presidency and his efforts to unite the country around its mostly white rugby team in the aftermath of the abolition of apartheid. Matt Damon plays François Pienaar, the Afrikaner team captain.
Though neither actor took home the Oscar, Freeman's and Damon's performances brought a pivotal moment in South African history alive for viewers. Freeman attended the ceremony wearing a bracelet created by the Nelson Mandela Foundation as part of the 46664 Campaign. Named after the five-digit prisoner number assigned to Mandela for nearly 30 years, the campaign uses that number as a symbol for the faith that hard work and compassion can build a brighter and fairer world. The bracelets are to be auctioned off later this year, with the proceeds going to the foundation.
Invictus is not the only Africa-related film in recent years to be recognized by the Academy. Over the years, dozens of films about Africa have been nominated for Academy Awards. Starting with 1985's Out of Africa, which won Best Picture, Hollywood began taking note of African stories and projecting them onto the silver screen, much to the delight of American critics and filmgoers:
• In 1987, Denzel Washington was nominated for his performance as South African human rights leader Steve Biko in Cry Freedom.
• In 1989, Marlon Brando was nominated for his role in A Dry White Season, a film about apartheid in South Africa.
• 1997 was a big year for Africa at the Oscars. Steven Spielberg retold the story of the slaves kidnapped by the crew of the slave ship Amistad and garnered four nominations. The Ghost and the Darkness, a thriller about the building of the railway in colonial Kenya, won an award for sound editing. That year, the Best Documentary award went to When We Were Kings, a recounting of the famous "Rumble in the Jungle" — the 1974 boxing match between Muhammad Ali and George Foreman held in Zaire. Another Best Documentary nominee was Mandela: Son of Africa, Father of a Nation.
• In 1998, Gorillas in the Mist, about Dian Fossey's struggle to protect mountain gorillas in Rwanda, earned five nominations.
• In 2001, the Academy gave the Best Foreign Language Picture award to Nowhere in Africa, a German film about a German Jewish family fleeing to Kenya during the 1930s.
• In 2004, Hotel Rwanda, about the Rwandan genocide, received three nominations.
• In 2005, The Constant Gardener, a thriller set in present-day Kenya, was nominated for four Academy Awards, and Tsotsi, a depiction of life in the townships in Johannesburg, won Best Foreign Language Picture.
• In 2006, Forest Whitaker won Best Actor for his performance as Idi Amin in The Last King of Scotland. The same year, Blood Diamond, a film about the conflict diamond industry and the civil war in Sierra Leone, received five nominations.
• In 2008, War Dance, a documentary about children living in a refugee camp in Uganda, was nominated for Best Documentary.





(No Ratings Yet)


Loading...