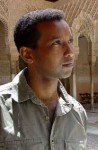 WINDHOEK – The FIFA World Cup in South Africa has been at the receiving end of hostile publicity from the Western media, but the media in Africa can dilute such negatives by jealously guarding the tournament through objective reporting.
This is the view of highly rated Al Jazeera journalist, Rageh Omaar, who, in an exclusive interview with Namibia's New Era newspaper, described the coverage of this year's FIFA World Cup by the Western media as "overwhelmingly negative".
Omaar charged that it was "sad" that the Western media, when reporting on the World Cup, focus on poverty and other social ills that Africa, and particularly hosts South Africa, faces.
In a telephone interview from London yesterday, Omaar, who worked for the BBC for over 12 years before jumping ship to the Doha-based news network, said African media faces an uphill battle to safeguard the tournament whose successful execution would in general reflect well on the continent as a whole.
"I was in Cape Town during the last summer and when you compare what is being reported and the real situation on the ground, you'd see there's intentional negative publicity by the Western media," the Somali-born journalist told New Era.
FIFA General Secretary, Jerome Valcke, in January cited media in England and Germany, as being behind a wave of negative publicity ahead of the World Cup in South Africa.
Apart from the social ills cited by the media in Europe such as poverty, crime and possible outbreaks of swine flu between June 11 and July 11 when the tournament is being held, such media also went on to allege that the stadiums hosting matches will never be finished before kick-off.
Others went on to say that South Africa would run out of money before preparations for the tournament are finished, while negative hype was also being concocted around the sale of tickets for the World Cup.
"As someone who has been in this trade for years and working in Europe for that matter, the negative media reports on the World Cup and Africa as a whole would continue irrespective of how the tournament goes.
"It's up to Africa and its media to blow its own trumpet to suppress such negative reporting," the 42-year-old journalist said.
"Africa has to protect herself," he said, while dismissing suggestions that there are third parties behind such reporting in the Western media.
"This kind of reporting is based on the state of mind developed in the last 30 years in the media circles on their perception of Africa," he said.
Omaar is a winner of numerous journalistic awards, among them the Royal Television Society, and Prix Bayeaux Award for War Reporting, while his work has also been nominated for the International Emmy in the United States.





(No Ratings Yet)


Loading...