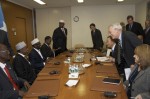 Washington — As press reports suggest a military offensive by the Transitional Federal Government of Somalia (TFG) is under way against al-Shabab militants in Mogadishu, the top U.S. envoy to Africa says military operations are the responsibility of the TFG, and U.S. policy toward the war-torn country is guided by its support for the peace process.
Assistant Secretary of State for African Affairs Johnnie Carson told reporters in Washington March 12 that media accusations of U.S. military advisers in Somalia to aid the TFG are incorrect. Those allegations "do not reflect the accuracy of our policy," he said.
"We have provided limited military support to the Transitional Federal Government" through the Africa Union Mission in Somalia (AMISOM), Carson said. "We have supported the acquisition of nonlethal equipment to the governments of Burundi and to Uganda in particular," as well as Djibouti, ranging from communications equipment and uniforms to transportation and support for Ugandan military training of TFG forces.
Carson estimated that U.S. support for AMISOM over the past 18 or 19 months has been "in the neighborhood of $185 million."
The assistant secretary said he wanted to "set the record straight and place our policy in proper context." U.S. policy is "guided by our support of the Djibouti peace process," he said.
"The United States does not plan, does not direct, and it does not coordinate the military operations of the TFG, and we have not and will not be providing direct support for any potential military offensives. Further, we are not providing nor paying for military advisers for the TFG. There is no desire to Americanize the conflict in Somalia," Carson said.
The United States believes the TFG seeks to end the violence caused by al-Shabab and other extremist groups and calls for "an inclusive political solution" to resolve the conflict, urging Somalis to reject violence and "participate in the hard work of stabilizing the country" that will benefit the whole population, he said.
"The Somali people have suffered tremendously throughout more than 20 years of conflict, and Somalia's turmoil destabilizes not only that country, but the region and also some aspects of the international community," Carson said.
But this "is not an American problem," he said. Somalis and Africans should "remain in the lead."





(No Ratings Yet)


Loading...