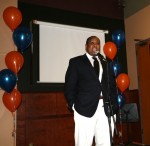 Local businessman and community organizer Hussein Samatar announced his candidacy for the Minneapolis Public Schools Board – District 3, during his campaign kick-off Thursday at Mapps Café in the heart of the Cedar-Riverside neighborhood.
Samatar cited as key strengths his financial background and a keen interest in working with the Minneapolis immigrant population.
Samatar says he will work with all students but will make efforts to work closely with immigrant students because of their unique language and cultural needs.
"We have to have representation everywhere. And one of the growing communities in the Minneapolis Public Schools is the English Language Learners (ELL). They make up almost one third of the school children. No one from that community has ever been elected to be a sitting board member of the Minneapolis Public Schools and we are going to change that."
Samatar says that he will focus on keeping young men in school making sure they graduate. He says he will also use his experience and background in finance to help students attain financial literacy.
"This issue is really key for me. We are losing a lot of young men in this district and that should stop. I want to work with these young students as much as I can and keep them in school."
Samatar is the founder and executive director of the African Development Center (ADC), a business and financial literacy organization that serves African immigrants. He has an M.B.A. from St. Thomas University.
Samatar serves on a number of boards and commissions including the Minneapolis Foundation and the Dean's Advisory Board of the Humphrey Institute at the University of Minnesota. Minneapolis mayor R.T. Rybak appointed him to sit on the Minneapolis Library Board from 2006 to 2008.
Samatar has been endorsed by Minneapolis Mayor RT Rybak. Hennepin County Commissioner Peter McLaughlin and other community leaders were present at the rally to show their support.
Currently, he is the only candidate running in District 3. A father of three, Samatar lives in the Phillips neighborhood in South Minneapolis.

Sahra Mohamud is a Mshale Staff Reporter based in Minneapolis. She is an alumni of the University of Minnesota School of Journalism and Mass Communications.





(No Ratings Yet)


Loading...