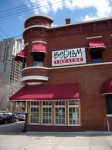 The Ordway Center for the Performing Arts this week announced the recipients of the 2009 Sally Ordway Irvine Awards. As in the past, four leading individuals or organizations from Minnesota's arts community were acknowledged for their outstanding contributions to the state's cultural life.
Bedlam Theatre in the Cedar-Riverside neighborhood of Minneapolis, home to a large poopulation of Somalis, was among those honored. It was honored in the Initiative Award category.
Bedlam Theatre produces radical theater with a focus on collaboration and a blend of professional and community art. The company's imaginative mix of spectacle, satire, absurdism, multimedia and music theater has delighted local audiences since 1993. Over the years, as its collaborative approach has grown beyond the stage – from audience to community – Bedlam has become a leader in civic engagement and audience development.
The Bedlam philosophy is part performance, part community building, and part social networking. The company provides hands-on opportunities for community involvement in the creation of cutting-edge performances, and it has built a social framework around its productions that includes a full restaurant, bar and community spaces. Bedlam opens its space for classes, meetings and workshops, and supports metropolitan livability and sustainability initiatives with an on-site bicycle workshop, outdoor performances near the Cedar-Riverside LRT stop, alternative transit discounts, and a local food menu. This year, its Cedar Riverside Art Zone for Youth will engage over 300 neighborhood youth, mostly first and second generation East African immigrants, in creative skill building workshops, events and the creation of original performances.
In 2004 Bedlam was named by American Theatre Magazine as one of 12 innovative companies to watch nationwide. Over the past three years, Bedlam has grown more than ten-fold in terms of audience, creative output, community activity and budget. Bedlam is a recipient of a Doris Duke Future Audiences Award, the 2009 3M Innovation in the Arts Award, capacity investment grants from the McKnight and Bush Foundations as well as strong support for its neighborhood youth initiatives. Today, Bedlam finds itself at the center of a national dialogue to rethink the paradigm for arts organizations, with burgeoning success in its mix of community building, innovative art work and diverse earned revenue streams.
Others honored were VSA Arts of Minnesota in the Vision category, T. Mychael Rambo in the Education category and My Ron Johnson in the Commitment category.





(No Ratings Yet)


Loading...