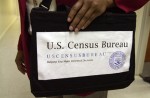 The 2010 Census wants to count every resident in the U.S. But many residents are concerned that their data may not be kept confidential. The Justice Department recently confirmed that no provision of the Patriot Act overrides the confidentiality law that protects census responses.
Recently, the Congressional Hispanic caucus raised this question again. Ronald Weich, Assistant Attorney General, U.S. Department of Justice, confirmed that data submitted on Census questionnaires will be kept completely confidential. One of the specific concerns raised by the Hispanic caucus was the Patriot Act. Mr. Weich assured the caucus that no provision of the Patriot Act supersedes Title 13 of the U.S. Code which protects Census data. When you fill out and mail back your 2010 Census form, your responses are safe and confidential.
No government agency, law enforcement agency, national security agency, court, or anyone else can access your Census responses – not anyone for any reason. No law, including the Patriot Act or immigration laws, overrides the confidentiality law that protects personal information collected by the Census Bureau. Nor can any court, government agency, law enforcement or landlord force the Census Bureau to share census responses until 72 years after the data was collected.
 
Every Census Bureau employee must pass a background check before being hired and must swear under oath to protect the confidentiality of census responses. This is an oath for life. Any employee who reveals any personal census information is subject to severe penalties — including a fine of up to $250,000, imprisonment of up to five years, or both. To date, and the Census has been conducted every 10 years since 1790, no confidential data has been released.
The 2010 Census – it's SAFE, EASY and IMPORTANT!
Barbara works at the Minnesota State Demographer's office.





(No Ratings Yet)


Loading...