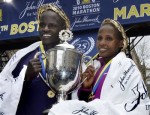 Ethiopian Erkesso is Women's Winner
The Boston marathon today saw first time winners of the race in both the men's and women's race. Robert Kiprono Cheruiyot, 21, of Kenya and Teyba Erkesso, 27, of Ethiopia were the men's and women's winners respectively in the 114th Boston marathon.
Cheruiyot, who finished fifth in last year's Boston won today's race by setting a record for the race at 2:05:52 thus bettering the Boston marathon's course record (2:07:14) set by fellow Kenyan, four-time Boston winner Robert Kipkoech Cheruiyot in 2006.
Cheruiyot's course record earns him a $25,000 bonus.
Last year's men's winner,Ethiopian Deribe Merga (2:08:39) finished third behind fellow Ethiopian Tekeste Kebede (2:07:25) who came in second.
Americans Ryan Hall and Meb Keflezighi finished fourth (2:08:41) and fifth (2:09:26). Hall, who led in the early miles, ran the fastest time by an American at the Boston Marathon and was a minute faster than he ran in last year's third-place finish.
 
"Almost two months ago, I met with Robert (Kipkoech Cheruiyot),"' said Robert Kiprono Cheruiyot. "He told me that if you stay with the group, you stay nice until people go slowly (then) try to move. Stay behind to reserve strength. He told me about his race he (won) in 2007 and 2006, so he knows."
Erkesso of Ethipoia while winning in the women's race also set a personal record for herself of 2:26:11 beating Russian Tatyana Pushkareva who came in at 2:26:11.
Erkesso, a World Cross Country veteran, led most of the way during the women's race.
"From the beginning of the race, I was looking to win," said Erkesso, who built up a 1-1/3 minute lead through the 30K mark. "Tatyana was behind me and I didn't believe that I had the win until I crossed the (finish) line."
2010 Boston Marathon top 5 women results:
1. Teyba Erkesso ETH 2:26:11
2. Tatyana Pushkareva RUS 2:26:14
3. Salina Kosgei KEN 2:28:35
4. Waynishet Girma ETH 2:28:36
5. Bruna Genovese ITA 2:29:12





(No Ratings Yet)


Loading...