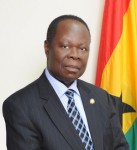 Ghana's ambassador to the U.S., Daniel Ohene Agyekum, will speak on African economic development, education and the importance of books for African children at noon, Wednesday, April 28, at Town & Country Club, 300 Mississippi River Blvd. N., in St. Paul.
The event is sponsored by Books For Africa (BFA), the world's largest shipper of donated English language text books to the African continent. Its mission is to end the book famine in Africa. Over the last  20 years, BFA has shipped over 22 million books to 45 African countries. Each shipment, which contains approximately 20,000 books, benefits a minimum of 20,000 students and up to 500,000 students over the life of the book. The larger community also benefits from access to reading materials, opening up a world of ideas, critical thinking and self-esteem.
Founded in 1988 and based in St. Paul, Minn., BFA collects, sorts, ships and distributes books to children in Africa. Books donated by publishers, schools, libraries, individuals and organizations are sorted and packed by volunteers who carefully choose books that are age and subject appropriate.
Books For Africa has for the third consecutive year received a 4-Star rating for sound fiscal management from Charity Navigator, America's premier charity evaluator.
In his distinguished career, Ambassador Ohene Agyekum served on several delegations to international conferences. During his tenure as High Commissioner in Ottawa, he led Ghana's delegation to negotiations leading to the adoption of the Montreal Protocol on the Substances that deplete the Ozone Layer, held in September 1987; and also attended the international Conference on Financial Leasing in Ottawa in 1988 and the UNDP Environmental Conference in Nairobi, Kenya.
Ambassador Ohene Agyekum was appointed to his current position by John Evans Atta Mills, President of the Republic of Ghana, in January 2009. An accomplished diplomat and a discerning and astute politician, he came to Washington, D.C., imbued with a rich experience in both diplomacy and politics and motivated by an unwavering personal commitment to the pursuit of progress and prosperity for Ghana.





(No Ratings Yet)


Loading...