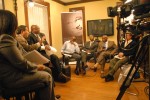 With health care reform in the "done" column, the White House and Congress should tackle long-overdue immigration policy reform, say media, legal and community service leaders.
Joined by Cara Huang, the immigration issues expert on US Rep. Mike Honda's (D-CA) Washington DC staff, editors and publishers of the Minnesota Multicultural Media Consortium engaged a leading immigration law expert, a successful  naturalized immigrant businessman and a Somali elder whose community service organization provides support to immigrants from throughout Africa, in a broadcast forum on immigration policy.
Huang said Honda, who is chair of the bi-cameral, bi-partisan Asian Pacific Legislative Caucus, has offered two pieces of legislation with the support of the Hispanic Legislative Caucus and the Black Legislative Caucus, that seek to fix the nation's immigration system, which many say has been broken for at least 20 years.
"The Reuniting Families Act deals with the problem of Asian immigrants who are citizens or legal residents facing longest family visa backlogs in the system. Why should they wait so long to be reunited with their families?" she said.
"He has also introduced The Strengthening Communities Through Education Integration Act which provides tax credits and which assists and incents employers to provide English-language training for their employees," Huang said.
She said the Congressman "wants President Obama and the Democratic leadership in Congress to remember that immigration is important to our country and to our economy and consistent with the values of our nation."
Traditionally, immigration has been a bi-partisan issue, and the Congressman believes it should remain so, Huang said. In March, Honda spoke to a rally on immigration where some 250,000 people attended, showing there is overwhelming support for immigration reform, she said.
Lawyer and human rights and immigration expert Loan Huynh, a member of the immigration law center at Fedrickson & Byron Law Firm, said there are many challenges facing immigrants. "We are hopeful that Congress, and the Senate in particular, will take leadership to implement comprehensive immigration reform this year. It is a bi-partisan issue. It's about families, employment and the economy," she said.
"Congress needs to address not only the needs of the employers, who want to be in compliance with the law, but also recognize that we have people who want to work, but who are not able to because of the visa backlog and other status issues. We have people who can contribute to our society, but now have to endure long waits to get the right to work."
"Change will require courage," Huynh said. "We saw it on health care, and it will be the same on immigration reform. The House is doing great, but the Senate needs to step up," she said.
"Historically, when immigrants from Europe came to America, they too faced resistance and hostility. But we have to look at the difference in today's anti-immigrant sentiment. As immigrants, we're talking about families and work. But some of the dialog from the anti-immigrant arena is very dangerous because it is based on ethnicity and race. This is really a civil rights issue now," she said.
Nghi Huynh, president of Minnesota Multicultural Media Consortium (MMMC), announced the Consortium is launching The Immigrant Information Center to help members of immigrant communities navigate the immigration and naturalization processes. "We are creating and assembling information about immigration, and about rights and resources. We can help them understand the process of becoming citizens. We will work with ethnic media including newspapers, radio and television programs to provide our communities with up to date information about immigration policy and law. We can help them understand Homeland Security and government, and we can support and promote non-profit organizations that help immigrants with citizenship, health, housing and jobs," Nghi Huynh said.
"Immigrants face so many challenges," said Abdullahi G. Nur, Executive Director of African Community Services, in Minneapolis. The big problem now is jobs and housing. Rents are going up. Immigrants don't have the job skills so they are getting old jobs that cannot support the high rents."
Another problem is use of DNA testing to confirm family ties. "DNA testing should be used for criminal apprehension cases, but not as part of the family reunification consideration," Nur said. "What if a man works on the road and is away from the home for long periods of time. What if the wife has a relationship that produces a child. In my religion, that husband is the father of that child, regardless. So when the family seeks reunification in the US, DNA will deny the genetic kinship, but that is a family," he said.
Businessman Peter Idusogie concurred. "You can't say you value families when your policies break families apart," he said. "Liberians here have a situation where they have to apply for status to stay here every 18 months. How can you plan and build a life with the threat of deportation hanging over your head? And we have to be concerned about the hundreds, and perhaps thousands, of children who are citizens because they were born in the US, but who will need foster care if their parents are deported."
"What we are doing to the Liberians immigrants and refugees is unconscionable," said Tom Gitaa, Publisher of Mshale, a monthly newspaper serving African and African American residents of Twin Cities. "The Immigration Information Center could help spur activity toward immigration policy reform. Our latest issue of Mshale said we were happy to see health care reform clear Congress and get signed into law. Now it is time to focus on immigration reform."
"Our newspaper is serving as a clearing house for what is and what is not in the health reform legislation that affects immigrants. But if you ask immigrants what is more important, health care reform or immigration reform, you will find that immigrants feel immigration policy reform is more important. That is because we want to get our dad or our mom who may at home in Africa to join us here, and present immigration policy makes that cumbersome and difficult," Gitaa said.
Adolfo Cardona, Publisher of Latino Midwest, said this issues point to the need for more information that is accessible and reliable. Our mission is to use information a tool to support immigrants. So the issue of trust is important. When each of our communities take the initiative to inform our respective communities about immigration challenges, issues and solutions, our people will learn to trust the resources and the processes," Cardona said.
Idusogie, who has announced his candidacy for Minnesota governor, described himself as a first generation American, London-born of Nigerian parents. "Immigrants were left out of the health care bill," he said. "But immigrants have contributed to the social and economic development of this country since its inception. This is all about the economy. During the Clinton era, there were not enough American workers to fulfill the labor requirements of industry so people looked the other way when it came to status. Now, with the economy in crisis people are pointing to illegal immigrants as the problem."
Cardona said ethnic media can help the United States explore, debate and arrive at immigration policy solutions that are respectful, sensitive, and that reflect the greatest American values. Idusogie said America can decide that it can secure its boarders, then determine an orderly process that provides legal status for the more than 10 million who are currently undocumented. "People engaged in illegal and criminal activity are a minute minority. Let's identify them, eject them and then fast track everybody else for citizenship or legal resident status. They are here. They are not going anywhere. It is in our own best interests to recognize that," he said.
The program was taped this month at the Marcus Garvey House studios in North Minneapolis and airs in May on Conversations with Al McFarlane Public Policy Forum on KFAI 90.3 and 106.7, and on public access television in Twin Cities. It is part of a series of programs looking and business development and wealth creation, sponsored by Northwest Area Foundation, U Care Minnesota, and Hennepin County Medical Center.





(No Ratings Yet)


Loading...