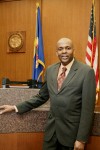 Governor Tim Pawlenty announced the appointments of Ayderus Ali and Nnamdi Okoronkwo to the Council on Black Minnesotans.
Ali and Okoronkwo were among six other appointees the Governor announced on April 16. Ali is an Ethiopian who is a Somali court interpreter. He serves in state, federal, U.S. Immigration courts, and a linguist with the U.S. Department of Justice. Ali attended the University of Minnesota and the Abassia Institute of Technical College in Cairo, Egypt.
Okoronkwo, an assistant city attorney with the City of Minneapolis, is a son of a Nigerian immigrant. In the past, Okoronkwo worked with Best Buy Company as a corporate attorney, and was a Hennepin County District Court law clerk. He has served in the Volunteer Lawyer Network as a pro bono attorney. Okoronkwo holds a law degree from William Mitchell College of Law and a bachelor of arts from Augsburg College.
The Council appoints two members whose ethnic heritages are from Eastern and Western Africa. Ali replaces Mohamud Noor as a member from East Africa while Okoronkwo will replace Gloria Lamphear as a member from West Africa.
The Council on Black Minnesotans was created by the Minnesota legislature to advise the Governor and legislature on issues that are confronting black Minnesotans. It consists of 17 members, 13 of which are appointed by the Governor.
Both Ali and Okoronkwo will serve for a four-year term that expires on January 6, 2014.

Sahra Mohamud is a Mshale Staff Reporter based in Minneapolis. She is an alumni of the University of Minnesota School of Journalism and Mass Communications.





(No Ratings Yet)


Loading...