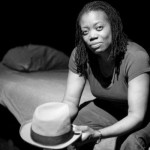 In 1902, playwright Cori Thomas' grandparents emigrated from the United States to Liberia. There they built and founded a school – The Lott Carey Mission, where my mother and countless other Liberians have been educated and is in operation to this day. Cori's father, David M. Thomas, Sr., joined the Liberian foreign-service. He spent over 30 years serving as a Liberian diplomat around the world.
On April 12, 1980, a violent military coup brought the country to a screeching halt. Many people were executed, including President William R. Tolbert and 13 members of his cabinet. Cori's uncle was arrested and killed while in prison.
Ambassador Thomas, who was in the U.S. at the time, was ordered to return to stand trial. He refused and instead applied for political asylum in the U.S. He was named an enemy of Liberia and a traitor. He lost all his life savings which were held in Liberian banks. He was also forced to turn over the deeds to land he had bought. Life as he and his family knew it, and all privileges, vanished in an instant.
People sometime say that when something bad happens, you can't go home again, but sometimes you must. So, 20 years later in 2000, Thomas, Sr., now 83, insisted on visiting Liberia, which was now in the midst of a devastating civil war. His daughter Cori accompanied him, where they found themselves detained and imprisoned by a machine-gun-toting14-year old 'commander' of the Armed Forces of Liberia.
This play was inspired by that trip:
Pillsbury House Theatre presents the World Premiere of PA'S HAT: LIBERIAN LEGACY by Cori Thomas and directed by Marion McClinton. The cast features Ansa Akyea, Namir Smallwood, Regina Marie Williams, and Bruce A. Young.
Family legacy, national pride and the violent civil unrest of war-torn Liberia set the backdrop for this moving new play. Performances run Wednesdays through Sundays, May 28, 2010 through June 27, 2010. Tickets are $10 – $20. Performances take place on the Pillsbury House Theatre Main-stage at 3501 Chicago Avenue South in Minneapolis.
 
TICKET PRICES
Wednesdays @ the House – Pay What You Can Thursdays & Sundays – $15 Adults / $10 Seniors & Students
Fridays & Saturdays – $20 Adults / $15 Seniors & Students
Tickets are available by calling 612-825-0459 or online at www.pillsburyhousetheatre.org. Pillsbury House Theatre does not charge additional fees for online ordering.

Wynfred Russell is a former faculty of the Department of African American & African Studies at the University of Minnesota-Twin Cities, where for six years he taught African history and culture. He has also taught African history and multicultural education at North Hennepin Community College and Century College. Russell is currently the Director of Normandale Community College's Center for Multicultural Services. 





(No Ratings Yet)


Loading...