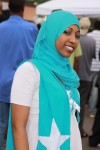 Somalis in Minnesota marked the 50th anniversary of the Somali Independence Day on Saturday. To accommodate the Independence Day celebrations, Lake Street in Minneapolis was closed from Pleasant to Blaisdell Avenue.
Hundreds of Somalis gathered in Minneapolis to commemorate Somalia's 50th Independence Day marking. In 2007, Ghana became the first African country to celebrate 50 years of independence from European colonial rule. This year, sees several other African countries celebrating half a century of independence: the Democratic Republic of Congo, the Ivory Coast, Madagascar, Mali, Niger, Nigeria, Togo, Benin, Burkina Faso and the Chad.
Different parts of Somalia gained different independence from colonial powers. British Somaliland gained its independence from Great Britain in June 26th. On July 1, former Italian Somaliland got their independence from Italy and that same day the Somali Republic was formed when the north and south merged as one nation.
Raho Warsame, one of the main organizers and a property manager with the Project for Pride in Living in Minneapolis, says the celebration was a success.
"It was really beautiful to see everyone come out and celebrate this day," said Warsame. "We were organizing this event for a long time and it went very well."
The celebrations in Minneapolis were in the Whittier neighborhood where Somali singers, community activists, Imams and youth leaders entertained and addressed the crowd. Other guests included state, city officials and gubernatorial hopefuls who stopped by to say a few words. Senator Al Franklen were also in attendance. Minnesota is home to the largest Somali population outside of Mogadishu.
Fadousa Egal and her husband, Ali Egal joined in the celebration with their children. Ali said she felt that it was important that her children learned their history and to celebrate the day with other Somalis.??"It makes me very happy to see all of us Somalis gathering to celebrate this significant day," said Egal. "My children are also benefiting from this because its good for them to get expose to these kind of events."
Abdulkadir Addow, a social insurance specialist for the Social Security Administration, says that he remembers growing up in a peaceful Somalia. Addow was born and raised in Somalia. He attended school there and earned his first degree from the National University of Somalia's Department of Agriculture.
"This is beautiful to me because we are celebrating the independence from colonialist power," said Addow. "But my eyes are filled with tears whenever I think of Somalia," says Addow.
Despite gaining independence from the British and the Italians fifty years ago, Somalia has only celebrated momentary "freedom." For the last twenty years, Somalia has been without a central government. Over the years, Somalia has consistently qualified and topped the list of so-called "failed states". However, many like Addow still have hope that Somalia will be stable and peaceful again.
"There are a lot of negative things occurring in Somalia and to the Somali people, but I have a lot of hope," said Addow. "My hope is in the young generation."

Sahra Mohamud is a Mshale Staff Reporter based in Minneapolis. She is an alumni of the University of Minnesota School of Journalism and Mass Communications.





(No Ratings Yet)


Loading...