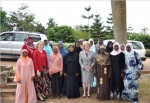 Hailing the spirit of entrepreneurship across Africa, U.S. Under Secretary of State for Public Diplomacy and Public Affairs Judith McHale called on all Africans to quickly embrace changing technology and a host of transparent reforms that can aid economic growth across the continent. She pledged continued U.S. support for that effort.
Speaking in Uganda at the Verizon Symposium on Internet connectivity June 28, McHale said, "East Africa cannot afford to be on the sidelines. The potential here is enormous."
The June 28-29 symposium in Uganda was organized by U.S. telecom firm Verizon Communications and other partners to discuss the arrival of new broadband Internet access in East Africa. The connection will link it with the rest of the world and thus stimulate educational opportunities and economic growth and development across the region.
Referring to a recent report that looked at the economic potential in African markets, McHale said, "Those opportunities can only be realized if you have a well-educated work force, if all of your citizens are participating in that economic opportunity."
McHale pledged to her audience of more than 120 government, business and educational representatives attending from Uganda, Kenya, Tanzania, Rwanda and Burundi that the United States government is willing to help in that effort.
"There are many things we can do to work together … (such as) connecting you with U.S. academic institutions that have already undertaken many of the programs" that are being attempted by African universities.
The under secretary cautioned her audience to take advantage of developments that have already taken place elsewhere. "You do not need to reinvent the wheel; there are a lot of lessons learned all over the world as people are looking at ways to bridge the gap to advance all of these initiatives much more rapidly."
"We want to help you do it, but at the end of the day this needs to be an initiative owned by the countries and people of East Africa," McHale said. "You are the ones best positioned to know what you need to do to achieve the objectives, what will really be appropriate for the communities in which your students live. The international community will follow your lead, but you need to provide the direction for us all. Only you can define your own paths."
McHale provided what she called "guiding principles" for Africa to consider as it improves Internet connectivity and communications.
"Based on my own experience here and based on my interactions with young people throughout this region," she told her audience, "I'm absolutely convinced if we provide the students of East Africa with the resources they need, deserve and will increasingly come to expect, there is simply no limit on what they can achieve."





(No Ratings Yet)


Loading...