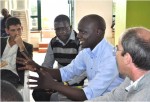 Is it possible to develop software applications in Africa that respond to civil society needs? Techies, or technologists, in East Africa say "yes!" and will set out to do exactly that with "Apps 4 Africa," a contest that challenges software developers to respond to specific needs described by people in Kenya, Tanzania, Uganda and Rwanda.
Sponsored by Appfrica Labs of Kampala, the Innovation Hub (iHub) of Nairobi, the Social Development Network (SODNET) of Nairobi, and the U.S. State Department, the contest was launched July 1 at iHub, an innovation hub and community workspace for local technologists. The contest runs through August 31.
The State Department hosted a webchat July 9 where three of the software developers involved in creating Apps 4 Africa answered questions from a global audience about the contest and what it could accomplish. The software developers — Josh Goldstein and Jon Gosier, Americans who have worked in technology development in Africa, and Kenyan Philip Thigo of SODNET — said they see the contest as a way to link civil society needs in East Africa with home-grown technology solutions.
Thigo told webchat participants that his passion is "enabling citizens and the non-profit sector to strategically use technology to create change," and said he sees the contest as "a much needed conversation between civil society and techies."
There is a cultural gap, Goldstein said, between technologists who get excited about high tech and community leaders who get excited about usability. Apps 4 Africa can be a step in bridging that gap.
Goldstein said the contest will challenge technologists in East Africa to build applications that are useful to the public. The contest is "about giving citizens a platform to share ideas about how technology can help improve their lives," he said.
The contest website, www.apps4africa.org, provides a place for civil society organizations and individuals to submit project ideas, describing needs or problems that could be addressed by technology. Projects on the website propose apps, for example, to help day laborers find work, respond to victims of sexual violence, track microloans, connect teachers and students, help people with disabilities, and enhance public health and safety.
The website also provides a space for African technologists to connect with mentors and network on the collaboration page, as they seek to design software solutions to meet project needs. Gosier predicted the contest will serve to "showcase the knowledge capacity available in Africa."
What kinds of apps can be considered? All kinds, said the organizers, responding to questions. Gosier said the medium — mobile device, computer — is not as important as the functionality and the problems the developers will attempt to solve.
Apps will be judged on four criteria, according to Goldstein: usefulness to citizens; potential for the application to be useful for other, global users; usability; and originality. Thigo emphasized that the apps must be "simple and applicable to the regional context," and must be effective in improving the lives of communities and the work of civil society. Developers can even submit existing apps.
A group of civil society and technology activists will judge the competition, Goldstein said. "We brought together an amazing group of judges — civil society and tech industry luminaries from around the world."
The judges, Africans and Americans, include: Joseph Mucheru, the regional leader for Google in sub-Saharan Africa; Ory Okolloh, a Kenyan lawyer, political activist and blogger; Anil Dash, technologist, blogger and founding director of Expert Labs; Nathan Eagle, mobile phone developer and chief executive officer of txteagle; Tim O'Reilly, computer book publisher and blogger on emerging technology trends; Rakesh Rajani, Tanzanian founder of citizen-centered initiative Twaweza and a fellow of the Harvard Global Equity Initiative; Thomas Gibian, executive chairman of Emerging Capital Partners; and Emeka Okafor, venture capitalist, entrepreneur and "Timbuktu Chronicles" blogger.
Prizes, as detailed on the website, include "a small bit of fame and fortune — cash, gadgets, chances to improve your technical skills and the opportunity to hobnob with our judges panel of tech luminaries and civil society leaders at an awards ceremony in September." The contest runs through August 31.





(No Ratings Yet)


Loading...