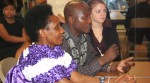 CHICAGO – When Serestine Cizanye arrived in Chicago from Tanzania it was winter and she spent every day in her room.
"I was confused, didn't know when it was day and when it was night. Through the settlement agency, I met other refugees and immigrants and I was able to communicate with others in (my language) Kirundi," Cizanye said.
A native of Burundi, Cizanye fled to a refugee camp in Tanzania in 1972 when the Tutsi-dominated government systematically massacred Hutus after a rebellion. She worked as a farmer, married and had five children. Then she was widowed.
In 1986, Cizanye was arrested by the Tanzanian government, along with numerous other women, and held against her will for three days. The women were all raped. Cizanye still suffers from the trauma of this experience.
In February 2008, Cizanye, 53, arrived in Chicago with two of her children, Pangrasi and Sipriyano. The resettlement agency provided her with housing, a bus pass and food stamps because her health prevents her from working.
But she has chest and back pain. She needs help navigating medical appointments because of language. Her sons are struggling at school. "It's hard," said Pangrasi, 15. "I don't understand algebra; only science and arts." Sipriyano said reading is difficult but he likes mathematics and has friends.
"These kids lived in a refugee camp for 11 years. They came here and didn't speak a word of English," said Terrance Sinabajije, a translator who works at the International Children's Center (ICC) at Heartland Alliance.
"They learned through ESL classes, regular school, after-school programs and tutors provided by the settlement agency. It's understandable that they have problems with some classes, but it's still amazing if you could go and see how they lived in that refugee camp," Sinabajije said.
Groups that try to resettle refugees like Cizanye are struggling with diminishing federal funds and an ever more variegated client base. Golden Door Coalition, a group of refugee service providers and supporters from the Chicagoland area, formed in January of this year, is advocating for a change in policy that would modify the Refugee Act of 1980, so it would be more relevant to the realities they face today.
Laura García is volunteer program manager at the Neighbor to Neighbor program at the Illinois Coalition for Immigrant and Refugee Rights (ICIRR). "The U.S. refugee program began in 1980 and at that time the two main groups were Vietnamese refugees and refugees from the former Soviet Union. The legislation was written for those big groups of people. The program structure, the funding structure, were for large groups of people all from the same country and also based on an old welfare structure," García explained.
"Now, we have a very different reality. We have numerous groups of people coming from many different countries, so it's very different. The need has increased, because it's much harder to serve that many different populations coming in," García said.
Also prior to 9/11, the refugee numbers were very high, over 100,000 a year. After 9/11 the program was practically frozen, because of national security concerns. Since then the numbers have been increasing again, García said.
Last year the United States let in approximately 46,000 refugees. The number of refugees resettled in 2005 in Illinois was 1,481. In 2009 that number grew to 2,576.
The Golden Door coalition is requesting a funding increase in Illinois' share of the Department of Health and Human Services funding from $2.5 million in FFY 2010 to $7.5 million. That was the Illinois funding level from FFY 2000.
Some states like Florida receive a lot more funds than Illinois. Florida does have the largest number of refugees coming in, said García, but many are from Cuba."It's much easier to serve one large population that speaks one language than it is to serve many populations that speak many different languages," García said
"In Chicago", she explained, "we receive people from all over the world, who speak different languages and we want to be able to integrate them into the community, get them jobs, help their kids through school. And in order to do that properly we need additional funding".
At a meeting recently, the Golden Door Coalition and a group of refugees from Iraq, Burundi, Somalia and Bhutan brought their concerns to Illinois Senator Richard Durbin and Edwin Silverman, Chief Bureau of Refugee and Immigrant Services at the Illinois Department of Human Services. The senator affirmed his commitment to increased funding for Illinois refugees, but didn't provide details.
Cizanye is struggling to make a life for herself and her sons. But she said despite the tribulations she is grateful to have found a home here.
New America Media is the country's first and largest national collaboration and advocate of 2000 ethnic news organizations.





(No Ratings Yet)


Loading...