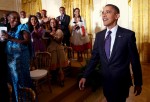 President Obama told young African leaders at the start of a three-day conference that as they work to build strong economies with jobs and opportunity, the United States will work with them, promoting the trade and investment on which growth depends.
"No one should have to pay a bribe to get a job or get government to provide basic services," Obama told delegates to the first President's Forum with Young African Leaders, which is meeting in Washington August 3–5. "As part of our new development strategy, we're emphasizing transparency, accountability and a strong civil society — the kinds of reform that can help unleash transformational change."
"It will be up to you — young people full of talent and imagination — to build the Africa for the next 50 years," the president said.
Obama convened the conference with approximately 115 young leaders from a cross section of African life to examine how they see Africa's future over the next half century and to help craft innovative solutions to regional challenges. Working with American counterparts and U.S. government officials, the delegates are sharing their insights on key conference themes of youth empowerment, good governance and economic opportunity.
The conference is being held at the White House and State Department as well as at locations in the Washington area with American business leaders and nongovernmental organizations. Delegates came from 46 countries and represent an array of political, economic, cultural and social arenas in their African homes.
A key event in the conference was a town hall meeting between the delegates and Obama in the East Room of the White House August 3. Obama spoke for about 10 minutes from prepared remarks, but told the delegates that "I don't want to do all the talking. I want to hear from you."
"You are the heirs of the independence generation that we celebrate this year. Because of their sacrifice, you were born in independent African states," Obama said.
In Africa this year, 17 sub-Saharan nations are celebrating 50 years of independence, and since the early 1990s, democracy has made significant strides on the continent. Recently, democratic elections have been held in South Africa, Botswana, Namibia, Mauritius and Ghana, which illustrates the importance that Africans are placing in democracy and good governance.
"Just as the achievements of the last 50 years inspire you, the work you do today will inspire Africans for generations," Obama told the delegates.
Asked about the disruptive power of corruption found in many African societies, Obama told delegates that while the problem is not unique to Africa, good governance is at the center of economic development on the continent, and there has to be a clear sense of the rule of law for growth and opportunity to flourish. It is one reason, he said, why the United States stresses the values of good governance to African leaders.
A young woman asked what commitment Obama could offer to the people of Somalia, a nation that has been torn apart by conflict for nearly two decades and struggles daily to maintain some degree of order. The president said that Somalia has the support of the American people, even through all it has suffered. "We desperately want Somalia to succeed," he said.
But extremists have made a home in Somalia, the president said, because they believe it is a failed state. There is concern in Africa and in the region that continued instability there could have a destabilizing impact across the region, but the resolution of that strife will not happen soon, he said.
When challenged on how much support the United States is offering Africans in the treatment of HIV/AIDS, which has posed a significant health challenge across the continent, Obama said funding has been increased during his administration, and that it is now included in a broader program attacking worldwide diseases. He said that former President George W. Bush, during his administration, initiated the President's Emergency Plan for AIDS Relief (PEPFAR), which vastly improved health care support for Africans dealing with the highly infectious disease.
That health program is being expanded under Obama's broader Global Health Initiative. It does not stop at AIDS treatment, he said. It includes building a public health structure that also attacks transmission of the disease. One significant aspect of curbing transmission rates is empowerment programs for women, he added. Where women are empowered, researchers say, HIV transmission rates decline over time.
Another aspect of the Global Health Initiative, Obama said, is to improve public understanding of the nature of HIV/AIDS, how it is transmitted and what is needed to curb its spread.





(No Ratings Yet)


Loading...