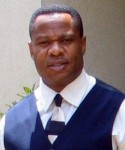 When voters go to the polls in next Tuesday's primary races in Minnesota, the slate of candidates to choose from will have expanded from the last elections to include the burgeoning African immigrant community in the state.
In the city of Brooklyn Park, the race to City Hall will have an additional African face – Benjamin Osemenam. He is a councilman candidate for the Brooklyn Park East District. He joins fellow African-born Wynfred Russell who is running in the same city but for the Central District.
Osemenam, a homeowner in the city, says he was compelled to run because of the lack of accountability exhibited with the current leadership in the city. "I intend to serve and listen to the community," he said. "I don't want to listen to city hall."
His extensive platform includes the issue of home foreclosures which has hit the city hard. The city is home to the largest concentration of Minnesota's middle class African immigrants and Mr. Osemenam contends the city has not been aggressive in tackling the issue. If elected, he says he will work to create what he calls a "one stop shop" resource center for those about to lose their homes.
Asked what other fresh ideas he will bring to City Hall if any, he said community policing is something whose time is overdue in Brooklyn Park. Mr. Osemenam says he plans to introduce what he calls a "non- threatening" community police program that will involve Community Action groups and the Brooklyn Park police department. "If the community feels they are part of system, they will be willing to work with the police," he told Mshale.
Other issues on the candidate's platform include taxes, education and job creation with the latter calling for the implementation of what he calls the "Employ Brooklyn Park Initiative", a public/private partnership that will involve among others an "innovative" contracting system that he believes will increase job opportunities by creating opportunities for small businesses to gain access to city contracts.
The candidate expressed concern that the early primary date might lead to a low voter turnout especially among the new Americans. He suggested those who might not be around to consider voting absentee in person if they have not already done so. Absentee voting at the Brooklyn Park City Hall can be done in person Monday through Friday from 8am-5pm.
"This Saturday (August 7) you can go to City Hall from 10am-5pm and vote absentee", he said.
Brooklyn Park City Hall is located at 5200 85th Ave N.
Faiza Abbas Mahamud is Associate Editor at Mshale having started as a Staff Reporter. She has a BA in Journalism and Women's Studies from Augsburg College. She is author of the documentary "Somali Women's Education". She is based in Minneapolis.





(No Ratings Yet)


Loading...