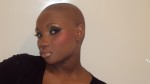 Barbara Chepkoech, popularly known by her stage name Cheptaab, was raised in Nairobi, Kenya. She started singing at a very young age with various groups before joining the popular Kenya Army band Maroon Commandos as one of their singers and dancers. She later went solo and released her debut album in 2009. The album featured Cheptaab's runaway hits Tilenyun and Josi josi.
Cheptaab also had a successful stint as an actress. She appeared in the popular TV comedy Vioja Mahakami as Suzzy Ndambuks and also in Tahidi High and Waridi. Cheptaab moved to the U.S. in early 2010 and is based in Des Moines, IA. Her fans will have a chance to see her perform on Sunday, September 5th at Cabooze 917 Cedar Avenue South in Minneapolis as part of the Kenya Moja Pamoja Labor Day Weekend events.
her Sunday performance will be the finale of a labor day weekend entertainment menu that will also feature Professor Jay from Tanzania, currently on tour in the U.S. and up and coming Kenyan female artist, Jedidah who goes by the stage name Genge Gal.
Full lineup of the weekend long festivities can be found at KE411.com.





(No Ratings Yet)


Loading...