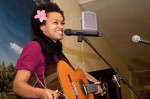 Her music defies categorizing. Like a diamond with many facets, Meklit Hadero offers an array of musical genres. For someone so young, she has a polished, yet diaphanous sound.
Born in Ethiopia, raised in the States, and presently, between touring dates, living in San Francisco, Hadero promotes her idea of music through a global lens.
Perhaps more importantly, Hadero, joined by nearly a dozen other artists from the Ethiopian Diaspora, promotes her homeland through a cultural exchange among artists living in Africa and artists who have left Ethiopia to live elsewhere.
This group, the Arba Minch Collective, and sponsored by Fractured Atlas, draws upon the talents of artists worldwide who work in mediums such as film, literature, theater, andmusic.
Hadero will play her jazzy, hip-hop, soulful, global music this Friday, September 24th at the Cedar Cultural Center at 8:00 PM with M. anifest, a now-local charismatic and rapidly rising Hip-Hop artist born in Accra, Ghana.
Editor's note: Free ticket giveaway for the concert by Mshale at our Facebook page. Up to 20 people will get a pair of tickets to go catch the concert for free. Enter a comment on our Facebook page and you will enter the draw.
Susan is based in Minneapolis and reports on general assignments for Mshale with a focus on entertainment. In addition to reporting, she is also a writer, poet, teacher and coach.





(No Ratings Yet)


Loading...