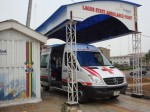 The 2010 U.S.-Africa Private Sector Health Conference, October 4–6 in Washington, will showcase Africa's thriving health care sector and the successes and opportunities that can be found there. The health sector continues to outperform other business sectors across the continent.
The conference — which is being organized by the Corporate Council on Africa (CCA) — will attract private and public sector leaders, top investors and entrepreneurs, offering a chance for businesses to maximize investment in Africa's expanding private health care market, where, according to CCA, "innovation is booming."
"We bring to the table something refreshing and new with this conference", said Stephen Hayes, president and chief executive officer of CCA, in a press release. CCA is a business trade group that represents some 85 percent of U.S. private sector investments in Africa.
"Where else can you learn from a Nigerian doctor who developed the 'hospital in a box' phenomenon, or meet a businesswoman who created an association that trains female dental assistants and is now reaching 2,000 patients and making quality dental health care affordable to everyone, in Africa?" he asked.
Themed "Integrating Business Solutions for Expanding Access," the event will feature panelists from the African private health care sector and multilateral institutions, as well as U.S. and African government officials, including Richard Sezibera, Rwanda's minister of health; Alice Albright, chief operating officer, U.S. Export-Import Bank; Ronald Williams, chief executive officer (CEO) and president, AETNA; Patrick Geragthy, CEO, Blue Cross/Blue Shield Minnesota; Onno Schellekens, managing director, PharmAccess Foundation; Jonathan Broomberg, deputy CEO, Discovery Health South Africa; Lynn Brown, president and CEO, Omma Healthcare; Luis Sambo, regional director, World Health Organization–Africa; Jerry Vilakazi, CEO, Business Unity South Africa; and Alexander Preker, lead economist–West Africa, World Bank.
According to the CCA statement, the conference provides a unique platform for networking opportunities and sessions led by U.S. and African leaders whose expertise stems from their own successful, ongoing ventures in Africa.
During the conference, company representatives will have the opportunity to interact with public and private financial institutions that fund health projects and to learn about available instruments for project finance in a specially designed room, deemed "The Vault."
The conference enjoys the sponsorship of Chevron, the U.S. Agency for International Development, Danya International/ZebraJobs.com, the global nonprofit organization AED, Development Finance International, Medtronic, Northrop Grumman, allAfrica.com, Jeune Afrique, IC Publications and The Africa Report.





(No Ratings Yet)


Loading...