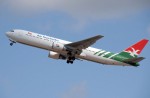 Boeing is forecasting that Africa would need about 700 aircraft worth US $80 billion over the next 20 years to deal with increased air traffic as the continent's economy picks up.
Africa is enjoying increased air travel and air cargo transport as many of its 53 countries experience rapid economic growth, spurred by global demand for commodities.
"As the demand for African commodities grows and foreign development and tourism increase, African carriers will require a modernized fleet in order to compete on routes historically dominated by foreign carriers," said Mike Warner, a senior market analyst for Boeing.
Warner said in a statement released at an Africa defense aviation conference that Africa's current fleet was on average nearly 20 years old in a market where more fuel-efficient planes were called for to help offset high fuel costs, one of the major factors influencing operator profitability.
He said growth in the airline market, along with demand for new more fuel-efficient jets, would drive new plane deliveries to Africa.
Boeing forecast that twin-aisle planes will account for 32 percent of new planes delivered to the continent over the next 20 years, compared with 23 percent globally.





(No Ratings Yet)


Loading...