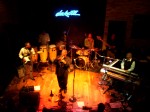 Legendary South African trumpeter, songwriter and singer, Hugh Masekela, played four shows at the Dakota Jazz Club & Restaurant in Minneapolis on Oct. 20-21.
Between concerts at Carnegie Hall on the previous weekend, and on his way to a concert with violinist Gil Shaham at Symphony Center in Chicago, Mr. Masekela found time to pay a second visit to the intimate nightclub setting of the Dakota. He was very warmly and respectfully received and gave a very comfortable, free-wheeling performance.
An extremely talented group of hand-picked band-members followed Mr. Masekela's lead very skillfully and presented this legendary figure of global music in the best possible light.
Cameron John Ward, lead guitarist and, at the tender age of 22, the most recent South African musician to benefit from Hugh Masekela' s constant desire to identify and nurture exceptional young talent. Keyboardist Randall Skippers is a graduate of the vibrant Cape Town jazz scene. Abednigo "Fana" Zulu, widely regarded as South Africa's finest bass player, has developed his own unique style with his upside-down strung, six-string bass guitar. Lee-Roy Sauls, a talented Cape Town rock 'n' roll drummer, has developed a name as a versatile jazz drummer under Mr. Masekela's tutelage. Francis Manneh Fuster, one of Africa's best-known percussionists, born in Freetown, Sierra Leone, was a member of the seminal Afrobeat group, The Heartbeats in 1962 and has been a permanent fixture in Mr. Masekela's touring band and a vital part of the Masekela sound since 1982.
Mr. Masekela's own position as a legend of global music history has been well-established year after year since 1959 when his group, The Jazz Epistles, recorded the first jazz album by a black, South African, jazz band. He dedicated his classic lament "Coal Train" to children, elderly, poverty victims, and women; victims of natural disasters "because of the way we have treated nature"; refugees, rape victims and those "running from target practice" by elected leaders in whom they have misplaced their trust; ". . . a prayer for the unfortunate who are catching hell all over the world".
Mr. Masekela and his excellent band got the late crowd alternately dancing, shouting, and clapping along with his highly unique combination of jazz, Afrobeat, and Soweto "growler" style vocalization. For an encore, he brought the electrified room to its feet with his 1987 anthem, "Bring Him Back Home", the song that helped keep the memory of Nelson Mandela alive through the decades of imprisonment until he finally emerged a free man to become the first black president of a South African nation free from the chains of apartheid.
In fact, this writer as a young man wrote a story for a small, underground newspaper about a young, black, South African lawyer who had been unjustly imprisoned since 1962, never dreaming that man would one day form the government of South Africa. Indeed, it was the global awareness kept alive in communities like Minneapolis/St. Paul all over the world, Mr. Masekela said, who refused to forget Nelson Mandela as he languished for 27 years, that made it possible for such a miracle to occur.
Asked backstage what words he had to offer to the African community of St. Paul/Minneapolis, Mr. Masekela unhesitatingly declared, "We need heritage restoration. Without it, we are doomed." He adds, "It's important for children of the future to say 'I am African', rather than, 'we used to be African – long ago'. Heritage restoration, we can create the environment for it. I'm trying to get a foundation for that."
Proving that, at 71 years of age, the story of the life of Hugh Masekela and his music will not yet part ways with the history of the times in which he lives–a true world citizen.
Guy Western covers a variety of story interests for Mshale. He is also an amateur poet and a retired gandy dancer.





(No Ratings Yet)


Loading...