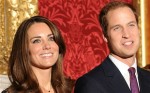 Prince William proposed to his girlfriend of eight years last month by a lake on the slopes of Mount Kenya, more than 12,500ft above sea level.
The peak is Africa's second highest mountain and bears a striking resemblance to the Scottish Highlands, with lakes of rainbow trout, fish eagles, heather and temperatures often little above freezing.
Two of the lakes on the mountain's slopes, Lake Alice and Lake Michaelson, are accessible only by helicopter. Prince William, an RAF pilot, is understood to have flown Kate Middleton to the lakeside in a borrowed helicopter to propose, with a backdrop of the Rift Valley spreading far to the north below.
Mount Kenya stands above Lewa Downs, the wildlife conservancy owned by the parents of Jecca Craig, Prince William's friend.
The Prince and Miss Middleton spent 10 days at a lodge in the game reserve.
Silas Koikaren, a Masai warrior who worked with the Prince in Kenya in 2007, said: "I send congratulations from all the Masai of Lewa."
Kenya is a country the Prince holds dear and he has spoken fondly of the anonymity Africa affords him. He is patron of the Tusk Trust, an African conservation charity.
Royal history was also made there in 1952 as it was where the Prince's grandmother learned she had become Queen. The young Princess Elizabeth and her husband Prince Philip were staying at the Treetops Hotel in Nyeri when her father, King George VI, died during the night.
Prince William spent several months working on Lewa Downs as part of his gap year after Eton. He was rumoured to have had a teenage romance with Miss Craig, even staging a mock engagement, but the pair have stayed firm friends.
Timeline leading to the royal proposal in Kenya
– June 21, 1982 – Prince William is born at St. Mary's Hospital in London at 7 pounds, 1 1/2 oz.
– Aug. 4, 1982 – Prince William Arthur Philip Louis is christened by the Archbishop of Canterbury, Dr Robert Runcie, in the Music Room at Buckingham Palace.
– July 1995 – Prince William begins his studies at Eton College, the exclusive school founded by King Henry VI in 1440.
– Aug. 31, 1997 – Prince William's mother, Diana, Princess of Wales is killed in a Paris car crash.
– Sept. 6, 1997 – Prince William and his younger brother Prince Harry walk behind their mother's cortege at her funeral.
– Late 2000 – After finishing his studies at Eton, Prince William works on volunteer projects in Chile, takes part out exercises with the Welsh Guards in Belize and rises at dawn to milk cows on a dairy farm in England.
– September 2001 – Enrolls at St. Andrews University in Scotland, where he meets Kate Middleton – a fellow art history student. She persuades him to stay at university after he admits finding it difficult to settle. Prince William later switched to a geography course.
– September 2002 – Prince William and Kate move into a shared student house with two other friends.
– May 2003 – Prince William and Kate are pictured deep in conversation at a rugby match, sparking rumors of a romance.
– June 2003 – Kate is a guest at Prince William's 21st birthday party at Windsor Castle, but in an interview he denies he has a steady girlfriend.
– December 2003 – Prince William and Kate are rumored to have become an item around the Christmas period
– March 2004 – Prince William and Kate's romance becomes public when they are pictured together on a Swiss skiing holiday.
– April 9, 2005 – Kate does not attend the wedding of Prince William's father the Prince of Wales and Camilla Parker Bowles in Windsor.
– June 2005 – Prince William and Kate both graduate in the same ceremony at St. Andrews and attend a celebratory lunch together with their families.
– December 2006- Prince William is commissioned as an army officer in front of the Queen at Sandhurst and joins the Household Cavalry as a second lieutenant. Kate attends the ceremony.
– April 2007 – British newspapers report that Prince William and Kate have split up. Prince Charles' Clarence House office refuses to comment, but does not deny the report.
– July 2007- Media in the U.K. report that Prince William and Kate have rekindled their romance.
– April 11, 2008 – Kate is seen at Prince William's side at his graduation ceremony from the Royal Air Force, taken as a signal by royal watchers that their relationship is now serious.
– June 16, 2008 – Kate attends the Order of the Garter service at Windsor Castle, the first time she has appeared at a formal royal public event.
– February 2010 – Asked by a member of the public about the prospect of a royal wedding, Prince William says: "You'll have to wait a while yet."
– October 2010 – Prince William proposes to Kate Middleton on a private holiday in Kenya.
– Nov. 16, 2010 – Clarence House officially announces the engagement of Prince William and Kate Middleton.





(No Ratings Yet)


Loading...