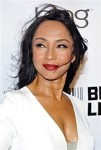 Posing for cameras at a red-carpet event is an everyday occurrence in the entertainment world, an almost mandatory requirement for Celebrity 101.
But for Sade, a woman who has had arguably the most uncommon career in music, doing things that typical stars do is atypical. So when she decided to walk before paparazzi at Alicia Keys' Black Ball for Keys' Keep a Child Alive charity a few months ago, it was an event in itself, and a first for the enigmatic performer.
"I don't think I'm a good star. I don't do all the stuff," remarked Sade in a recent interview, chuckling about her career milestone at the charity event, where she also performed. "I think I'll remain a novice; I'm not going down there again, at least not for a while."
While red carpets may not be in her future, Sade seems to be sharing a bit more of herself with her most recent comeback, the release earlier this year of "Soldier of Love." The critically acclaimed album, which has a strong chance to be among those mentioned when the Grammy nominations are announced Wednesday, debuted at No. 1 on the album charts when it was released in February. It came after a 10-year break from recording for Sade, the band that she fronts and bears her name.
The 51-year-old Sade is known as much for her reclusive nature as her captivating, hypnotic slow grooves. In an era when performers rarely cede the spotlight, putting out project after project and lending their names to clothing lines, fragrances, video games and more, Sade only appears when she has new music, and a new Sade album is, in itself, an event. Her last album was 2000's "Lovers Rock," and that followed an eight-year break from making music.
So it was slightly surprising to see Sade singing on ABC's "Dancing With the Stars" after the album's release. She appeared in a hilarious skit with Wanda Sykes on the comedian's now defunct late show, and appeared on shows like BET's "106 & Park" to promote the platinum-selling album.
She acknowledges that she's feeling slightly more comfortable in the media's gaze.
Full Story @ ABC News.





(No Ratings Yet)


Loading...