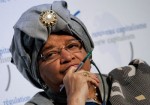 Liberian President Ellen Johnson Sirleaf has been named one of the "100 Top Global Thinkers of 2010" by Washington, DC-based Foreign Policy (FP) magazine. President Sirleaf is the only African head of state on the coveted list of who's who in international politics and governance. In an introductory letter, Susan Glasser, the magazine's editor-in-chief, says the list "fully reflects the new world."
"With the world's most developed economies still in crisis, it's no surprise that many thinkers on our list are political leaders, big-time technocrats, and intellectual combatants struggling to make sense of what's happening," says Glasser.
FP magazine says President Sirleaf belongs to the global "smart crowd" because, among other things, she has moved Liberia "away from a troubled past" to a prosperous future in just four years.
The premier international magazine developed rigorous selection criteria and assessed hundreds of personalities worldwide to come up with 100 of the finest brains and "unique portraits of 2010's" world leaders who are truly making a difference. The list includes billionaire philanthropists Warren Buffett and Bill Gates both at number one, with U.S. President Barack Obama at three, France's Finance Minister Christine Lagarde at 22, while President Sirleaf is at 85, among many other global luminaries.
In selecting Africa's first female president, the magazine recognized Johnson-Sirleaf for uplifting the lives of ordinary Liberians and rescuing the country from the abyss since taking office in 2006, which has won her a boatload of accolades around the world.
"The years since have seen impressive success: Liberia boasts one of Africa's fastest-growing economies, former warlord-president Charles Taylor has been captured and put on trial for war crimes," writes FP. "Sirleaf has appointed women to lead a quarter of her ministries, and the country is beginning to rebuild its battered institutions and infrastructure."
Nevertheless, FP acknowledged that President Sirleaf's, also known as the "Iron Lady", toughest fight is against "endemic corruption," which has dogged her administration and seen "some of her closest allies being forced to step down amid ongoing investigations."
"Today we have a much empowered society in which accountability is demanded by the people," the magazine quoted her as saying.
Despite these challenges, FP says President Sirleaf, who is running for a second six-year term, still enjoys tremendous respect and "the world's trust" for her competent stewardship over Liberia and its resources.

Wynfred Russell is a former faculty of the Department of African American & African Studies at the University of Minnesota-Twin Cities, where for six years he taught African history and culture. He has also taught African history and multicultural education at North Hennepin Community College and Century College. Russell is currently the Director of Normandale Community College's Center for Multicultural Services. 





(No Ratings Yet)


Loading...