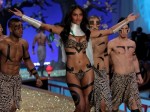 It's easy to not be racist at work but somehow Victoria's Secret flunked this task in a fashion show broadcast in November on CBS (and rebroadcast Dec. 8 on The CW). The show — in which half a dozen black models were stuffed into a segment titled "Wild Thing," in which they wore tribal body paint and African wraps.
Everyone is familiar with fashion's race problem. For years, the business declined to use non-white models in its ads and runway shows. If it did so, those models were often used to promote animal prints and African-themed garb. The rise of black supermodels like Naomi Campbell and Tyra Banks in the 1980s was supposed to have put an end to the unbearable whiteness of fashion. The days in which black models were only allowed to wear chunky wooden jewelry, turbans and leopard skin should have been relegated to the 1970s.
If only that were the case. The Victoria's Secret faux pas isn't isolated. In the last three years:
Full Story @ BNET.





(No Ratings Yet)


Loading...