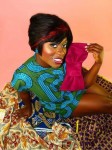 When I first saw the fashion designs behind Kachi Designs, I had one word in mind: Vibrant. The colors and the African-inspired patterns really drew my in and wow, the world of Kachi is beautiful. Even more beautiful is the fact that Kachi Designs is the brainchild of upcoming self-taught designer Chigozie "ChiChi" Anaele.
A True Visionary, artist, and entrepreneur. ChiChi produced her first ensemble using her own bedding! That is enough to make me adore the artist behind this brand. Another word: Creative genius. Meet Kachi Designs and the charmer behind this intriguing label:
Full Story @ Style Bistro.





(No Ratings Yet)


Loading...