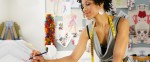 Over the past five years we have experienced an explosion of African fashion on the global fashion scene. Where wearing an outfit inspired by Africa's rich and diverse culture once meant sketching a clothing pattern, finding fabric, and working with a tailor to create the outfit.
We now have a number of of labels based everywhere from Lagos to Johannesburg who are playing couturier, as well as fashion shows such as the well-established Sanlam South Africa Fashion Week to the up-and-coming Mozambique Fashion Week who are providing much needed platforms to showcase African designers.
But until two years ago, the bridge between runway and retail was non-existent for African fashion consumers without access to designers' brick and mortar stores, leaving many would be consumers unable to support African designers.
Recognizing the gap between runway to retail, savvy designers have begun selling their creations through their own websites.
Full Story @ Mimi.





(No Ratings Yet)


Loading...