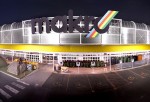 Walmart, the U.S. retail juggernaut, will set up shop in South Africa, according to media reports.
Shareholders of South African retailer, Massmart Holdings Ltd., on Monday voted 98% in favor of selling a 51% stake to Walmart at the equivalent of $21.39 per share or 148 Rand.
The total purchase price will come to US$2 billion.
The South African Commercial, Catering and Allied Workers Union which represents the workers at Massmart immediately voiced disapproval of the vote accusing Walmart of being antiunion and promised to challenge the takeover in court and politically. The Union promised to educate its members of the implications of the takeover.
Massmart CEO, Grant Pattison, said he expects approval from South African regulators, the Competition Commission and the Competition Tribunal.
Speaking after the vote, Pattison said "This is an important milestone and we now await the decision from the competition authorities."
Doug McMillon, Walmart International president and CEO, said South Africa is an "important region with attractive growth characteristics. This combination fits perfectly with our strategy to enter high growth markets in which we can apply our global expertise and generate strong returns."
Most of Massmart's 288 stores are in South Africa but it operates in 13 other African countries.
Despite assurances from Massmart and Walmart that they will continue to honor existing agreements with the unions, the latter remain unconvinced.
"Despite the advent of democracy in 1994, South Africa remains one of the most inequitable societies in the world, said Tyotyo James, deputy-president of the Congress of South African Trade Unions."The acquisition of 51% of Massmart by Walmart will cut out even more local ownership of one of the major retail players in the country."





(No Ratings Yet)


Loading...