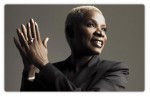 This Friday, Jan. 21, St. Paul will be privileged to receive, from her birthplace in Benin, a very special international visitor. At 7:30 p.m., on the main stage of the Ordway Music Theater, 345 Washington Street, there will be an appearance by Angélique Kidjo with her quintet.
As a highly energetic singer/songwriter, Ms. Kidjo has worked with international favorites such as Phillip Glass, Youssou N'Dour, Carlos Santana, Alicia Keys, Branford Marsalis and everyone in between. As an equally energetic advocate of human rights, Ms. Kidjo has been a UNICEF Goodwill Ambassador since 2002 and has worked with numerous advocacy groups and personalities. It is, once again, easier to name the countries she has NOT visited as an advocate. BBC Africa has named her one of the 50 most iconic people on the continent.
Angélique Kidjo's visit is not just a concert, but an international occasion reflecting her command of many cultures and languages, most of all the mother tongue of real international diplomacy–music. Ms. Kidjo's performances are as charismatically energetic as her life. Expect to be caught up as a full participant and not simply a passive observer.
Performance and Ticket Information
Angélique Kidjo
Friday, January 21, 2011 at 7:30 p.m.
Ordway Center for the Performing Arts
345 Washington Street
Saint Paul, MN 55102
Ordway's Music Theater
Tickets start at $21.
Box Office: 651-224-4222
Groups: 651-282-3111
ordway.org
Guy Western covers a variety of story interests for Mshale. He is also an amateur poet and a retired gandy dancer.





(1 votes, average: 5.00 out of 5)


Loading...