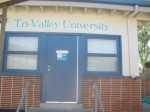 The Tri-Valley University's head office on Boulder Court wore a deserted look after it was raided and shut down Jan. 19 by U.S. Immigration and Customs Enforcement agents on charges of massive immigration fraud.
Tri-Valley University is said to have had 1555 students and as many as 95 percent of these students are Indian nationals, mostly from Andhra Pradesh. These students, theoretically enrolled in various degree courses at the university, are now left to face a bleak future with a possible loss of their student immigrant status.
Tri-Valley's Pleasanton campus is locked up with black plastic sheets and blinds covering the glass-panel windows from the inside, while the main entrance has a rotten banana peel hanging from the door handle. A UPS delivery message dated Jan. 24 for founder Susan Su is pasted on the door.
While neighboring businesses in the community maintained they only knew of the university's alleged misdemeanor from news reports, a parent of a toddler, who attends an art class on the same street, remarked to India-West, "I have rarely ever seen anyone here."
According to the complaint filed by the U.S. District Attorney's Office noted, "Since its inception, Tri-Valley University has been a sham university, which Su, and others, have used to facilitate foreign nationals in illegally acquiring student immigration status that authorizes them to remain in the United States."
The complaint further alleges that Tri-Valley University has made millions of dollars in tuition fees for issuing visa-related documents, which enable foreign nationals to obtain illegal student immigration status under a fraudulent scheme.
India-West was unable to contact Su or any other university authority before press deadline. ICE has also refused to comment on what course of action it will take against the university and students.
During the course of the investigation, ICE found that while students were admitted to various residential and online courses of the university and on paper lived in California, in reality they illegally worked in various parts of the country as far away as Maryland, Virginia, Pennsylvania, and Texas, according to a Times of India report.
ICE found that the university gave its own residential address for its students to allegedly conceal that they did not live in California.
For a student to maintain an active immigration status, they must show proof that they are making reasonable progress towards completing coursework and physically attend classes.
Federal authorities are reportedly trying to contact individuals who paid money to obtain student visas and student work permits, resulting in a panicked reaction among the Indian student community.
Many of these students, fearing a probe, are fleeing the country as soon as possible.
Meanwhile, many of the new students from Andhra Pradesh, who were planning to join the university for the new semester Jan. 10 after the winter break, have cancelled their U.S. travel plans. ?The university has been offering on-site and online courses in law, medicine, art, business and engineering to students since 2008, and boasted a faculty list of more than 50 educated professionals on its Web site.
ICE agents have executed search warrants at three other properties that have allegedly been bought with tuition money, including the university's Pleasanton campus.
New America Media is the country's first and largest national collaboration and advocate of 2000 ethnic news organizations.





(No Ratings Yet)


Loading...