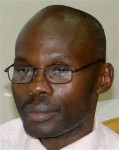 Although the murder of Ugandan gay rights advocate David Kato and the shooting of Gabrielle Giffords in Tucson, AZ, occurred 9,000 miles apart, there are many who believe that American hate speech is to blame for both crimes. In Uganda, Kato 's death is being called tthe direct result of the hateful words of American evangelicals who have publicly fought against homosexuality and homosexual rights.
The American conservatives accused of making inflammatory remarks in the months leading up to the Tucson massacre seem to have successfully rebuffed the allegation that they bear any responsibility for that crime. They've been helped by the mass media, which has focused heavily on the mental illness of shooter Jared Loughner.
But the Americans accused of fueling the homophobia that many are blaming for Kato's brutal murder—he was bludgeoned to death with a hammer— will have a much harder time convincing the world that they have nothing to do with his death.
Over the last few years, homophobia has soared hroughout Africa but especially in Uganda, where a controversial 2009 Anti-Homosexuality Bill proposed the death penalty for some homosexuals. The evidence suggests that American evangelicals were involved in the drafting of the bill. In March 2009, an American evangelist named Scott Lively led an anti-gay conference in Kampala. A few days later, David Bahati, a lawmaker and a close friend of Lively, introduced the bill in Parliament.
Rev. Kapya Kaoma, a Zambian priest who went undercover to the "viciously homophobic" conference to conduct research on the rise of homophobia in Africa, quoted one Ugandan attendee: "Dr. Scott told us about Brazil where, 10 years ago, homosexuality was unheard of. Today, it is the capital. There are people that have been against homosexuality that are having to leave because of the pressure and the threats that they are putting on them. That is how serious it is."
To solidify their lies, evangelicals took advantage of Ugandans' devotion to Christianity. They knew that Africa's nearly 500 million Christians practice their religion with more zeal than the foreigners who introduced it to them. Such people are more likely to act on anything that supposedly comes from the Bible. This is evident in the words of another man whom Rev. Kaoma quoted after Lively's speech: "The man of God told us about…a movement behind the promotion of homosexuality. … I got to know that there is a force behind homosexuality, which we need to tackle with force. He also told us that these people who are behind this…evil, they have all resources that they need…to spread this evil. We need to stand firm to fight homosexuality."
It is true that for decades there have been laws in the Uganda forbidding homosexuality. But like many laws in African countries, these were never enforced. And as the existence of those laws obviously suggests, Ugandans have known all along that some of their fellow citizens are gay. It wasn't until American evangelicals began flocking to the East African country that Ugandans began to see homosexuality as something new and evil.
Human rights activists and governments from around the world pressured Uganda to shelf the anti-homosexuality bill, albeit temporarily. But the damage was already done. Politicians, journalists and other Ugandans became increasingly intolerant of people they had lived with peacefully for decades. Outing gays became the fashionable thing to do. A little-known tabloid called Rolling Stone gained international notoriety for publishing the front page headline "100 PICTURES OF UGANDA'S TOP HOMOS LEAK." Kato's photo was among them.
"Hang them," the paper urged.
Lively and other evangelicals vehemently deny that they have a hand in igniting homophobia in Uganda. They point to some media reports quoting Ugandan police saying that Kato's death might have been a robbery gone awry. But it isn't hard to find stories in the same media about the corruption and incompetence of the same police.
The irony is that as Ugandans were getting ready to "stand firm to fight homosexuality," Lively was moving from California to Massachusetts— a state where gay marriage is legal—to open a coffee shop. If it turns out that Kato was murdered because of his sexuality, nothing will wash his blood off Lively's hands— not even fair-trade coffee from Uganda.
Edwin Okong'o is an associate editor with the New America Media.Okong'o holds a master's degree from the Graduate School of Journalism at the University of California, Berkeley, where he studied newspaper, magazine and radio journalism. He has written for several U.S. publications.In 2006, the Human Rights Center at Berkeley awarded him a summer fellowship to research and write about the plight of Kenya's disabled citizens. He was the winner of the 2007 Clay Felker Award, given to Berkeley graduate students who have shown excellence in long-form narrative writing for magazines.Okong'o did his undergraduate studies in Mass Communication at California State University, Hayward, where he held various editorial positions including editor-in-chief of the student newspaper, The Pioneer.





(No Ratings Yet)


Loading...