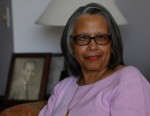 As a child, Melva Adams Kittrell would study the faces of her mother and five aunts.
Why, she wondered, did these African-American women have such fair skin? Why did two of them have blue eyes?
"I wanted to know more," says Kittrell, now 71. "Who are these people and where did they come from?"
As an adult, she spent hours listening to elderly family members and searching archives. She slowly pieced together her family tree, going as far back as slavery. Severed family ties and scattered records posed roadblocks she couldn't overcome.
But maybe science could.
Now Kittrell is among tens of thousands using DNA to trace family ancestry. Many are African-Americans who turned to companies that specialize in tracing roots back to Africa.
The trend, controversial to some, has become popular in recent years. Websites offer access to old records, and TV shows highlight the subject. In 2006, a PBS series featured Whoopi Goldberg and Quincy Jones tracing their roots. And NBC's Who Do You Think You Are?, which helps stars of all races re-create their family trees, launched its second season this month.
Demand for DNA research tends to rise in February, Black History Month, said Gina Paige, president of African Ancestry, which uses genetic testing to identify African roots.
Full Story @ St. Petersburg Times.





(No Ratings Yet)


Loading...